If you weren't aware of Microsoft Ignite or haven't had the chance to really focus on what is being presented from Microsoft, then we have created a great summary of the Modern Work and Security features recently announced. Over the coming weeks and months, we plan to share more details so you can learn how it will impact your digital work.

We are now seeing a demand for digital workspaces where 70% of digital workers have said they want flexible remote working options to remain. This is an important consideration and organisations need to think about flexible and physical location working to retain staff and build productivity. In Microsoft Ignite we have seen over 90 updates to the Microsoft Cloud with many focused-on productivity and security.

The announcement of Microsoft Cloud for Sustainability is a topical and important part of what Microsoft are working on. During Ignite they shared their goals for Sustainability and the tools organisations can use to record, report and reduce their own carbon footprint down to net-zero emissions. At Perspicuity we are following this with great interest and will be sharing more in 2022.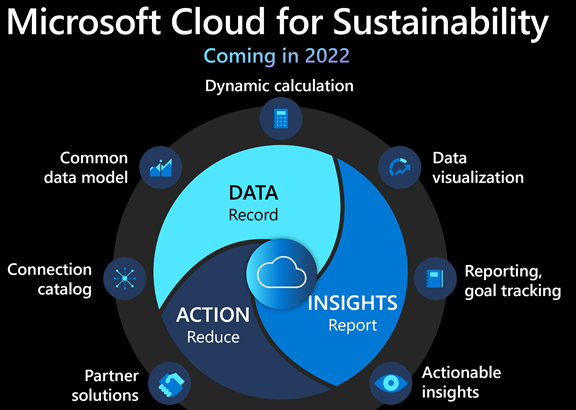 So many announcements came out for Modern Work that we have taken the core updates to share with you.
Microsoft Loop
One of the biggest announcements was the new application named Microsoft Loop. This is designed to bring data across multiple locations and make it available in one place. That could be application data or chats and emails all together with documents and tasks. We look forward to hearing more about this and see it as an exciting change in how we work. Read more about it from Microsoft here.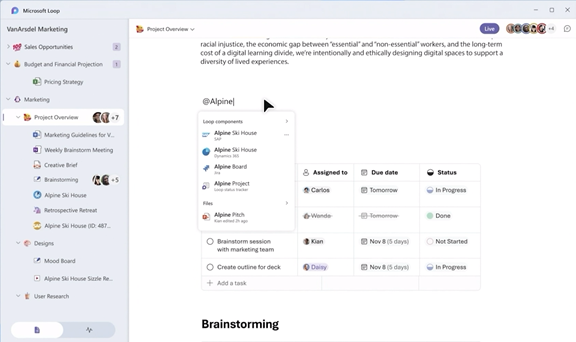 Microsoft Viva
We are also seeing a lot of new announcements with Microsoft Viva and clarity on what is available in your standard Office 365 licence compared to the intelligent AI features of the new all features Microsoft Viva licence. For those who look to invest in bringing Microsoft Viva into your organisation then in 2022 we will see the integration of Ally.io, a tool for focusing work against strategic objectives of the business aligning everyone to a central goal. Read more about it from Microsoft here.
Mesh for Microsoft Teams
The next feature which has driven a lot of conversations already is Mesh for Microsoft Teams. This brings the real world in to the digital world with an AI avatar. Imagine joining a meeting having an avatar virtual image show your expressions and movements. This can be taken further with 3D immersive spaces that allow you to interact with people through your avatar. We don't expect to see this soon but it's worth being aware of with the future of work.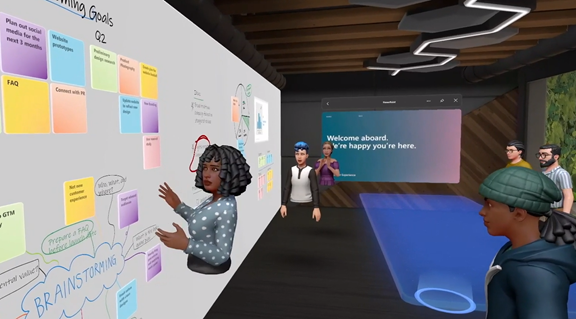 Teams Connect
We know that Microsoft Teams is the new front-end for your organisation, so it was exciting to hear about Teams Connect. This is an extension of a Team that now allows for an individual Channel to be shared with external guests. Bring in Collaboration with third parties to the areas you want to allow in your Team and manage the security to control that. Read more from Microsoft here.
Power Platform
There were also a whole host of Power Platform updates as Microsoft move to the Power Platform version 2. An ability to integrate a Teams chat into your Power App or for those looking at premium functionality a new licensing model of Power Apps pay as you go. We plan to run a separate Insight update purely on all the transformational updates in the Power Platform.
Begin your journey
These new features - in our eyes - bring endless possibilities in the way in which we work and we're itching to get our hands on them. Despite being new, we're in the process to scoping these features with our existing customers and discussing the new capabilities they can bring to any organisation. If you're interested in how your organisation can benefit from thee features, book in a slot to discuss more!
Keep your eye peeled - we'll be releasing the latest developments in Security very soon!