Fibre to the rescue
Hopefully this update finds you safe and sound in what is an extremely strange period. The lockdown has certainly changed how most of us work and go about our daily lives. Never have so many bottom drawers been so organised or so much effort gone into the often-fruitless endeavour of sourcing a packet of dried yeast for our newly found appreciation of bread making!
All plans are off, nothing to go and see, no music, no sports, it's so serious even Sky have offered a holiday from paying for sports when the reality kicks in that watching matches from 10 years ago really isn't the same.
Thankfully, Fibre internet has been rolled out to the majority of us so consuming content online has never been so good, and Microsoft are not going to let us miss out so are bringing their flagship conferences to the online world, for free. Nice work MS! As most of these conferences, if not all, are in the US, going is not a decision to be taken lightly. Check it out here and be sure to register.
SharePoint Updates
Stock images
Access to 1000s of high-res stock images when creating a page or adding an image web part. This will be a continuingly growing library...
Managed Metadata Service
New filtering and tagging options when tagging an item. There is a new tree control to make metadata management a lot easier to manage and use.
Note: This does not affect the Term Store management interfaces at tenant or site level. Whilst an upgrade to these is coming, currently we don't have a date.
Shy Headers
As you scroll down the page the header will shrink. This experience works on the desktop and mobile. You'll see not only the header section shrink, but the hub navigation will be hidden.
Of course, as you scroll back up the header will be resized back to normal.
SharePoint Spaces
Moved in to preview phase to create mixed-reality experiences.
To learn more about SharePoint Spaces check out this site.
Expect to hear more from us about SharePoint spaces as we dig into this exciting tech and learn how we can bring benefits to you, our customers.
Teamwork
Document hover cards
Significant updates are coming to the document hover cards, based on the success of the improved people hover card, users will now be able to see insights to a document:
Help to see what's in a document before you open it
Give an estimate of the time required to read the document
Viewers and number of views
Details of the last people who viewed and edited the document
Conversations around the documents
Expect more to come to this as Project Cortex gets rolled out, planned later this year.
Share with 'Open in Review'
You can now share a document that can only be viewed in the browser and not edited, which is easily done by mistake, especially when viewed in the browser.
Users will be able to add via track changes or comments. Only the document owner will be able to accept any changes.
Related Tech
Yammer app in Teams
You have probably noticed there is a now a Yammer app in teams. You can also pin this app to the left navigation of any team and directly interact with Yammer directly from your home of Team work and collaboration.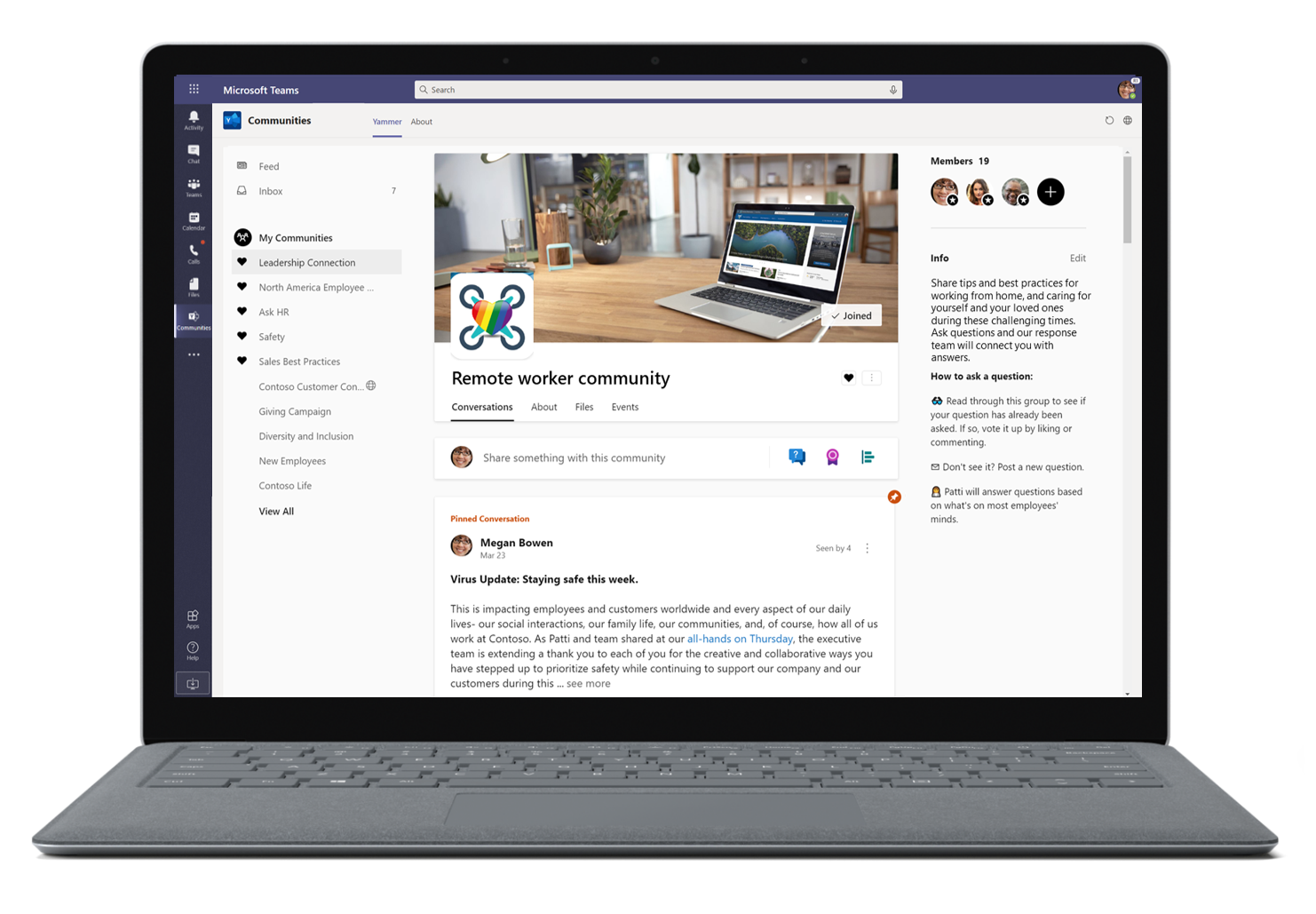 Planner app
Mobile app is getting considerable updates.
There are some differences based on your mobile platform. All improvements are giving more power to the user to interact with their tasks from their device.
Check out the iOS version here and the Android version here
Where are my employees?
New and updated reports to show where and how your users are using Microsoft 365. Providing answers to common questions like: Are users using SharePoint or OneDrive to save documents? Are they using Teams to communicate via chat and calls? How is email usage trending. Essentially … are people taking full advantage of the features you have enabled?
Next month…
Conditionally show or hide columns in a list or library
New Yammer conversations SharePoint web part
Did you know?
Microsoft Search is not new, but in our experience and opinion, this is a powerful and under-used feature in Microsoft 365. Which can be easily enabled from the Microsoft Admin centre.
Once enabled, users will be able to search for documents stored within SharePoint online and OneDrive from directly within the Windows task bar search experience and as a tab within Bing if you happen to be a Bing user 😉. Essentially, you can search across all of Microsoft 365 from any search box, whether that be Bing, SharePoint or Office web-apps.
Learn more about Microsoft Search here or if you'd like to speak to us about it please do get in touch.