We look at the changing trends to device management for the modern workforce and your opportunity to take advantage of the changing offerings.
Trends
1) Devices are no longer customer serviceable
Gone are the days of buying a laptop, strapping on your static strap and upgrading your memory, hard disk, or swapping out a cracked screen. The modern hardware format, such as the Microsoft Surface, is a sealed unit designed to only be maintained by the vendor.
Update: Making devices easier to repair is now such an issue the European environment ministers as well as 18 states in the USA are now responding with the "right to repair" - but laptops are not inline yet. Source: BBC
2) Your end users work from anywhere
To find the best staff, organisations are looking beyond who can commute to their HQ. We see companies downsizing to smaller HQs and the workforce becoming more dispersed, giving employee's access to hot desks in locations such as WeWork or Regus combined with the expectation that home working is normal and not the exception.
3) Software is moving faster

Traditionally Windows and applications such as Microsoft Office would run on a 3-year release cycle, and yes, it's true that Office 2019 is available for those who don't want to follow the subscription model of Office 365. For those who have gone to the cloud they benefit early from incremental updates to Office, and those on SharePoint Online have been able to take advantage of Modern SharePoint 18 months sooner than their on-premise counterparts. The question is, how to keep the device current?
How to respond
Procuring hardware
Some things haven't changed: for most users hardware still has a 3-year life-cycle before it comes redundant. Coupled with that, devices still get dropped and still suffer hardware faults.
Leading manufacturers have responded, we recommend looking at:
Lease not Buy - Spread the cost out across the lifespan of the device and make it the reseller's problem to effectively dispose of the device at end of life.
Advanced Swap Out - The key differentiator of premium cover over standard options. Receive a new device before you return your old one ensuring that you always have a device and downtime is minimised. Windows Autopilot ensures that new devices can be configured on arrival to your organisation's specification.
Hardware Warranty - Although a basic, ensure your hardware warranty matches your hardware lifecycle.
Accidental Damage - In an informal office survey, we noted that most staff take out AppleCare to protect their £1000+ smart phones, because we know that devices get broken and paying one off repair fees is prohibitively expensive, consider the same for your hardware.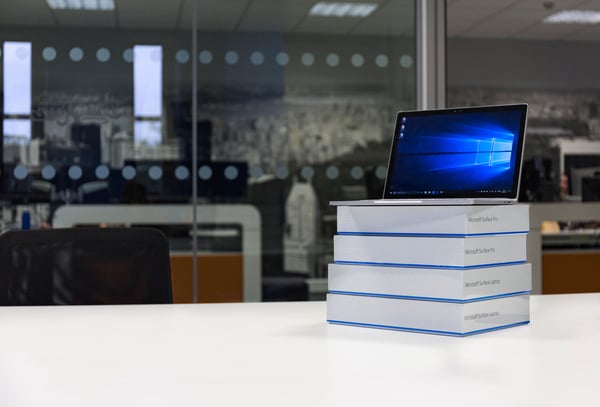 True mobile working
To support mobile working, we advise you to consider:
Home working: Look at what you would provide in an office environment and consider providing the same for home users, typically this might include a docking station and second screen.
Comfortable and protective transportation: We love the DoucheBags™ range of bags, they look professional without being "corporate", and they certainly don't look out of place in any WeWork office. Actually, we like them so much that if you join Perspicuity you get your selection of a bag as part of our on-boarding process.
Secure access to data: Users expect access to the same applications and data that they have on the corporate network: cloud applications allow this combined with technology such as Multi-Factor Authentication (MFA) to secure access, and BitLocker to encrypt locally stored data – meaning you can create a work-anywhere environment.
Device management
Remote device initiation: With users spending less time in the office, using technologies such as Microsoft's AutoPilot allows devices to be shipped direct from the distributor to the end user's location (home or office) and be remotely configured to your organisation's specification on connection to Wi-Fi saving the effort and time on imaging and re-shipping.
"My device failed in Heathrow Airport before an important trip, I went in to Duty Free, purchased a Surface Go and was up and running in 30 minutes thanks to AutoPilot" - Ben Gower | CEO
Remote application management: Managing devices that connect via the internet rather than through the corporate network requires a new approach, add to that we're accessing our corporate data via BYOD (Bring Your Own Device), smart phones, tablets as well as COPE (Corporately Owned Personally Enabled) devices such as laptops. We use Microsoft's Intune to provide full mobile device management allowing you to push applications to devices and control updates.