Configuration Analyser is a new tool within the Security & Compliance center which will review your security policies applied through Exchange Online Protection (EOP) and Office 365 Advanced Threat Protection (O365 ATP). The tool will run checks against your policies for anti-spam, anti-malware, phishing, and Safe Links & Attachments policies as applied through EOP & O365 ATP, and provide recommendations where additional protection can be applied. The tool will be accessible through protection.office.com under Policies and will look like this: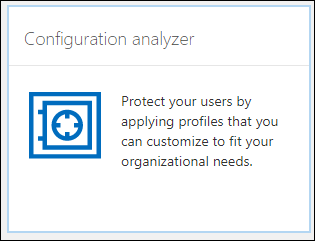 Alongside the release of Configuration Analyser, new preset security policies are being rolled with Standard and Strict options. The standard preset is aimed to be effective for the average user, whereas the strict preset is more suitable for priority or high-value users. If you have these policies applied alongside custom policies, the new presets will take precedence for users that are protected by both. These presets can be accessed through the same area as the Configuration Analyser, where you will be able to configure policies with conditions and exceptions to roll out them out.
The Configuration Analyser will run its checks against these new presets, and provide recommendations where settings they would apply are currently not applied. By default, the tool runs comparisons against the Standard preset, and can easily be switched to the Strict preset. The tool breaks down its analysis into categories based on security feature. From here you can expand to view how many users your policy applies to and recommended actions.

Both the Configuration Analyser and the new preset security policies have been rolling out over August.