Ignite 2021 was packed with new announcements for the majority of its existing services. Starting with SharePoint Online, there are some interesting new features coming, so let's look at these...
SharePoint Online
A major new announcement with SharePoint Online is the new SharePoint App Bar and Global Navigation. If you have a Home site assigned, this integrates the navigation into the App Bar making it accessible on all your sites. It is starting to appear now and means that whatever Modern SharePoint site you visit, this will get a consistent side bar navigation experience.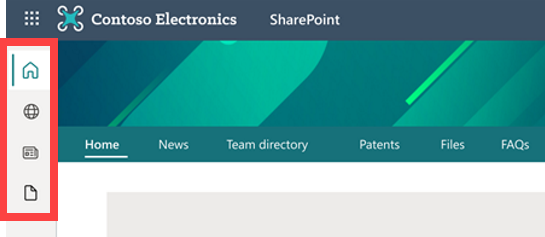 Another nice feature coming is page analytics to see how popular your news pages are. Immersive reader into SharePoint bringing it in line with some of the other services when considering Accessibility. For those security concerns there will also be time limited guest sharing on content meaning that files shared externally will fail to open after.
Viva Las Viva Topics
Microsoft Viva Topics is the natural progression of Project Cortex and formed some of what was showcased when Project Cortex was first presented. Viva Topics will build information about words and phrases in your content, likened to Wikipedia, powered by AI, without having to do very much to achieve this.
How this will help colleagues is by displaying information Cards when you hover or click on a word in your content (the word would be highlighted). This information might include related documents, videos or other users or extracts. Viva Topics will also provide the ability to curate this content to allow adjustment and to keep the human touch.

This will be a paid for service with additional licence costs. Learn more here.
Being Picky
The web part panel will be getting an update to allow easier searching for web parts, giving the option to categorise and change the layout.
On the note of "being picky", the Quick Links web part has introduced Audience Targeting to allow individual links to be displayed based on membership of an Active Directory or Office 365 Group. It's worth mentioning that Audience Targeting will only work with Active Directory Groups or Office 365 Groups and not SharePoint Groups right now.

Power to Power BI
Power BI Premium is receiving a bit of a face lift with Premium Gen 2. This enhancement is very much an infrastructure-based update to make Power BI more performant (apparently up to x16 faster) and includes utilization metrics.
Another Super-Power for the Platform
If you hadn't had enough of Power options across the Power Platform, Microsoft have released the roadmap for Power Fx, which is set to become the common language across the Power Platform suite and will become open-source later this year.

Power Fx is a language with its roots in Excel that is already used in Power Apps, but the plan is to expand this across all Power Platform Apps to provide consistency. More here.
Keeping Those Super-Powers Under Wraps
With the proliferation of Power Platform apps, especially around Power Automate and Power Apps, we are seeing updates being rolled out to the Power Platform Admin Centre to help manage these from a security and reporting perspective.
Microsoft Teams
Microsoft Teams continues to expand its capabilities with Channel sharing to individual users one of the key highlights to be coming later this year. With this, you will be able to share a single Channel within a Team without sharing the entire Team. This applies to internal and external sharing. What's more is that this shared Channel will appear alongside other Teams in your Teams App, regardless of which tenant you are in.
The new Presenter Mode in meetings should also provide a more personable view during presentations. This will come with some very nice features to show the presenter's video feed alongside the content they are sharing. You can check out more announcements from Teams here.
Yammer and Internet Explorer 11
Although Internet Explorer 11 may be a distant memory for most, if you haven't already planned to move to Edge or another browser like Chrome, you should consider doing so as soon as possible. Microsoft have been shifting support away from IE 11 for some time now and reminders that Yammer is the latest to be retiring support for this ol' browser by August this year have gone out recently.
The Azure Portal in March and by August, along with Yammer, most (if not all) of the Microsoft 365 services will no longer supporting IE 11.