Over the last few months Microsoft have been busy with updating the Microsoft Teams Meeting experience and we are now starting to see features which change the way we work for the better! I've taken the top 5 features (including upcoming) to enable you to make the most of your meetings!
1) Breakout Rooms
Let us look at some of the bigger announcements first, and one of the most anticipated was breakout rooms. These work by allowing the meeting organiser to create one or more breakout rooms and move participants into a room. It's worth noting that only the meeting organiser will see the icon to create breakout rooms. At the moment this can only be done in the desktop client although any participant on any client can join.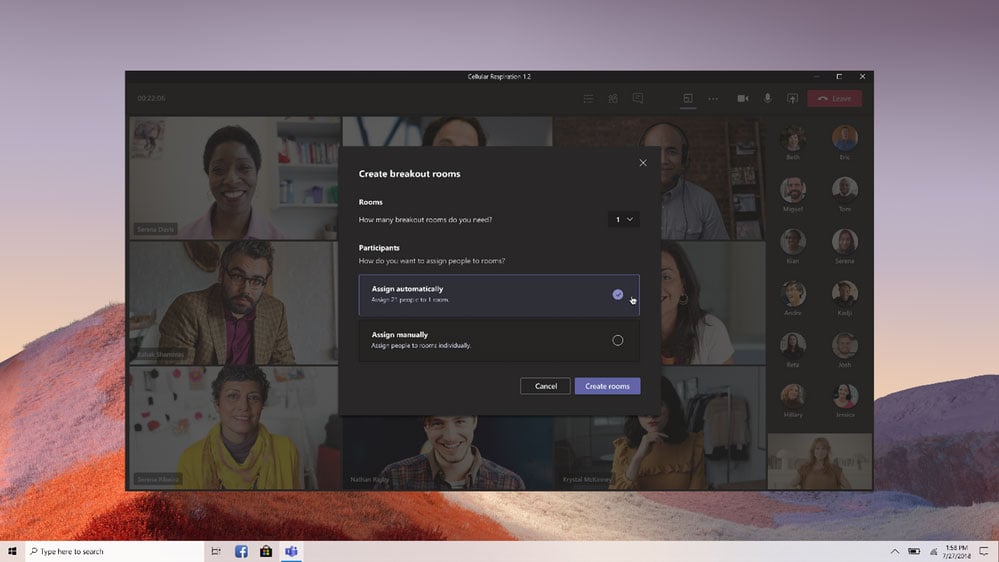 Learn more about Breakout Rooms here.
2) Microsoft Forms
Another nice feature that helps with engagement is the ability to create a Microsoft Form and poll for results in a meeting. This works whereby you can set this up before the meeting starts, in fact you can create multiple Forms and launch them in the meeting when they are ready. As we are used to in Microsoft Forms options, there is the ability to keep responses anonymous and allow results to be shared. But this is a great way of including participants especially with large groups.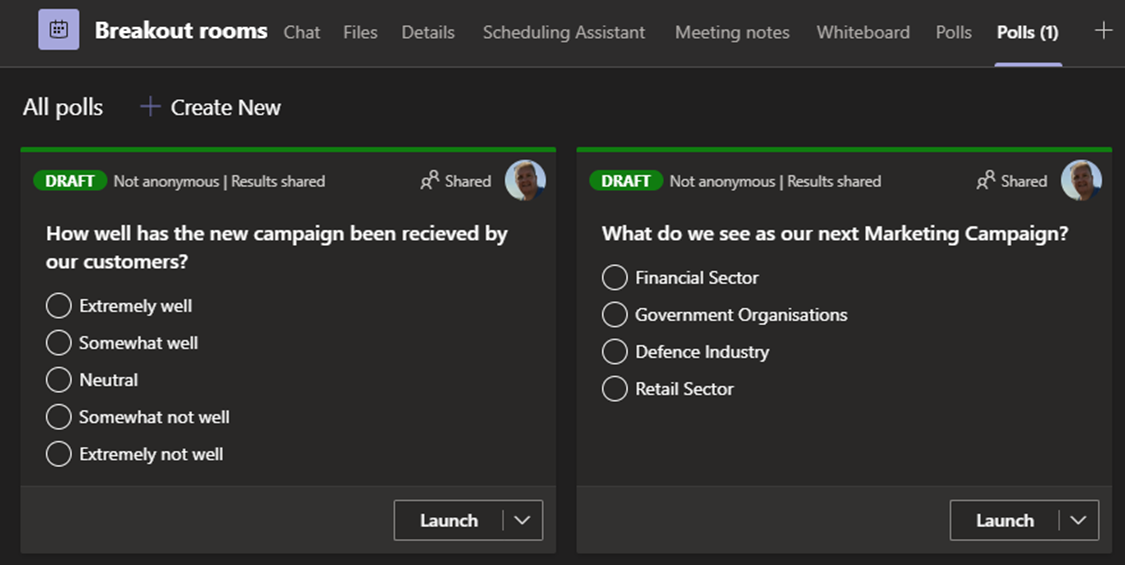 Learn how to setup Polls in Teams meetings here.
3) Microsoft Whiteboard
What we have also started to find useful when working in a meeting is the ability to 'ideate' as Microsoft call it and use the Whiteboard feature. The most interesting aspect of this feature is not only can we draw ideas on to a board but also create sticky notes to record decisions or actions. Although not for everybody this is a powerful feature when working in decision lead meetings.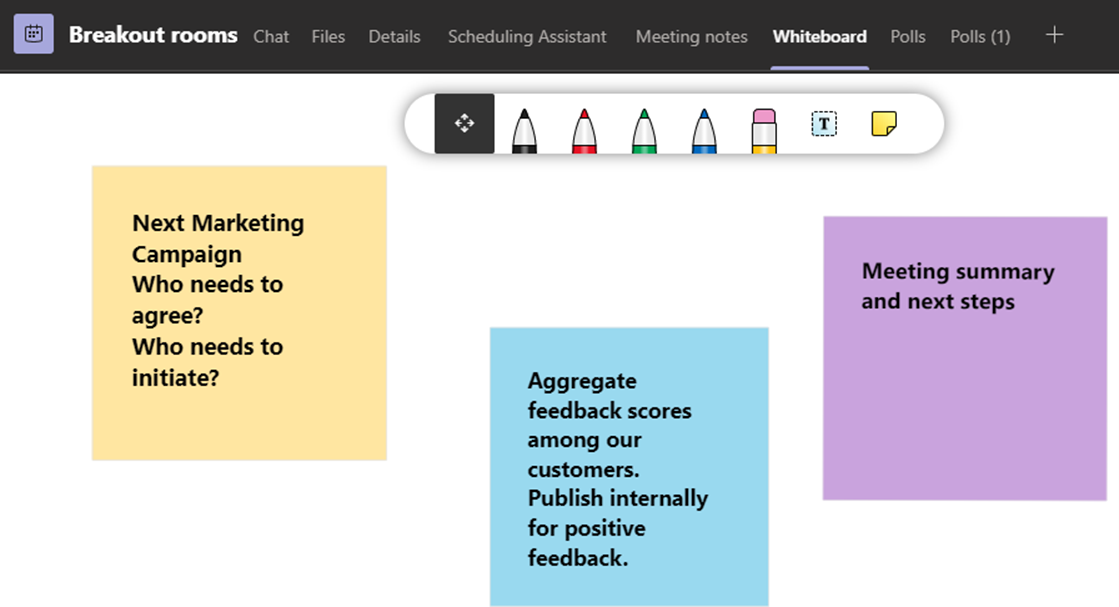 Get started with whiteboards in Teams here.
4) Reactions
Next a feature I for one am keenly looking forward to the ability for participants to respond in a meeting without going in to the chat. By this I mean soon all members will be able to react with a like, heart, applause and laugh. Having presented in a lot of ways recently it's great to get some interaction and feedback so Meeting Reactions is well worth looking out for with release this February.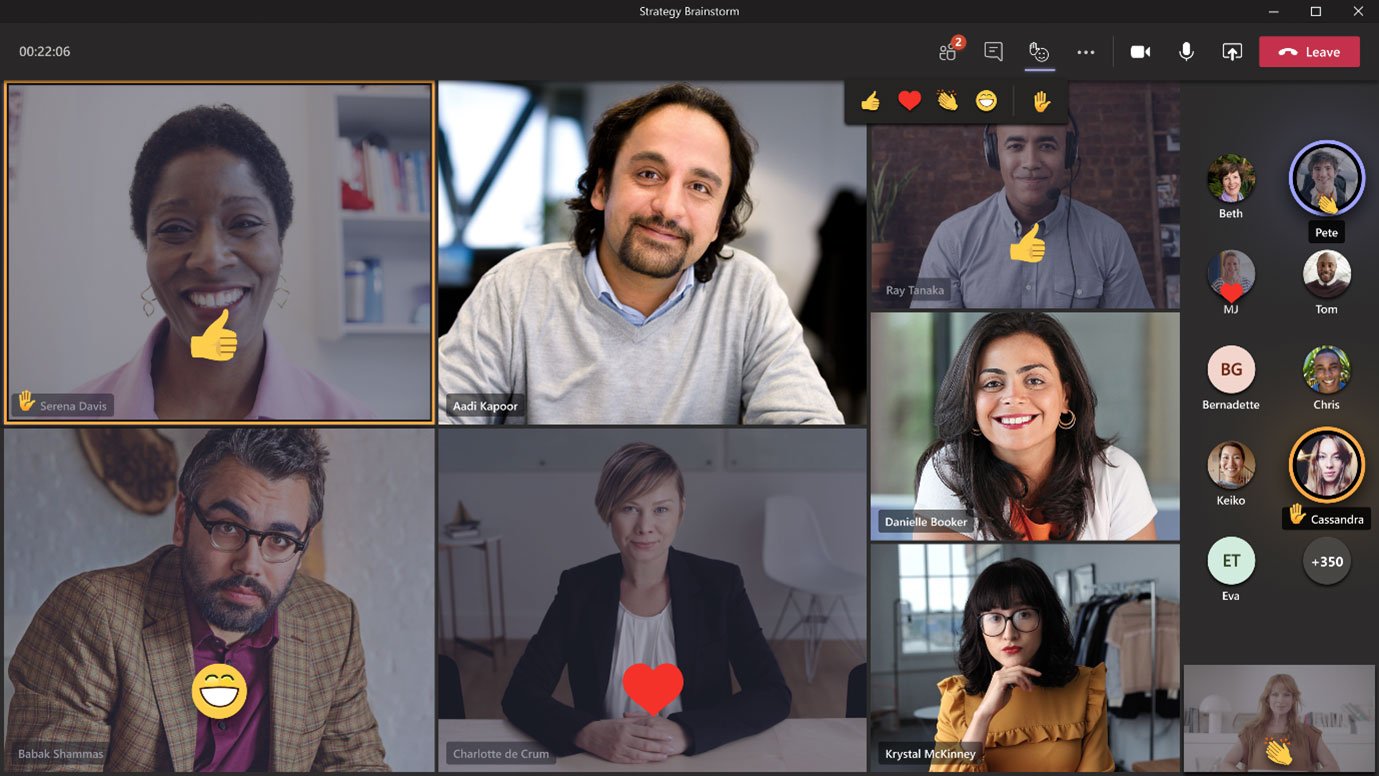 5) Adopt some best practice
Finally, I want to highlight some rules that people seem to be adopting, including myself, when organising and working in Teams Meetings.
The first is always write the 'Objective' and publish an 'Agenda' for every meeting. This not only reminds you closer to the time why it was organised and what needs to be achieved, but it gives those you invite the ability to review what the meeting is about and decline. The ability to allow our invitees to decide whether they can participate is important when trying to avoid meeting overload.

Next tip is to book in a 25 minute or 50-minute meetings in your diary, thereby allowing time for those who have a busy day to take that break or chance to get some fresh air. Anything above 50 minutes will see a degradation in meeting interest so I always schedule a break for longer meetings. Of course if you do this, then ensure the meeting finishes when it's meant to and the 5 minute reminder is always helpful for that.
Finally, I joined a meeting with a customer recently who had a strict 5 minute wait time for the organiser. If after 5 minutes the key organisers don't join the meeting, then that is the cue to end. I liked this idea as it meant I didn't spend my time waiting for someone to attend who may not even turn up, in some cases with good reason.
Hopefully this has given you an insight into how to manage running and attending meetings in Microsoft Teams. If you would like to know more about what you can achieve with Microsoft Teams, then please get in contact!