The 'Power Platform' is going to have several updates being released again over the next year in each of the different areas within it. Some of the additional features include: Enhanced collaboration within application building, licensing flexibility (PAYG), process advisor inefficiencies, data insights for teams, easier AI Integration.
Enhanced collaboration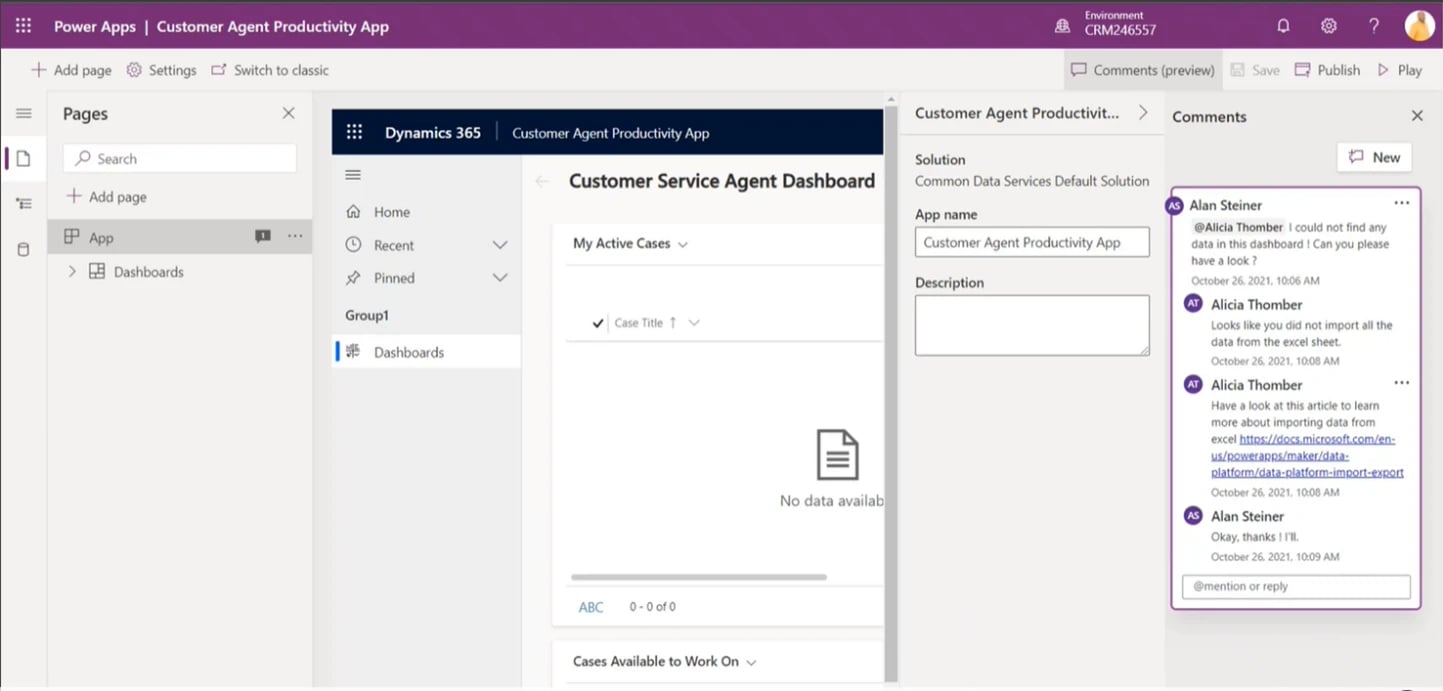 This update to the power platform is providing users with the ability to be able to add comments, feedback, and discuss with others directly whilst taking place in the creation of flows, apps or chatbots. This feature will provide users with the ability to provide support within the workspace rather than having to send questions or contact other members directly outside of the workspace. This allows for changes to be noted against, picked up, provide feedback and many other forms of communication without ever needing to leave the application.
Licensing flexibility (PAYG)
Pay-as-you-go purchasing is currently available in preview for Power Apps. This is removing the requirement to provide an upfront cost to get started with creating Power Apps. The Power Apps per app pay-as-you-go plan now introduces the flexibility for customers to pay for their Power Applications based on the usage of that app.
This is allowing organisations to be able to have the ability to pay for their applications flexibly depending on their level of usage. This will also include access to Microsoft Dataverse capacity, premium connectors and any other components required to run a premium application on the platform. These capabilities are applied to any environment which has had pay-as-you-go billing enabled against it which runs off an Azure Subscription.
Pay-as-you-go allows you to share a Power Apps app with any user in your organization and then only pay if and when they use that app. The pay-as-you-go plan also includes Microsoft Dataverse storage capacity and provides the flexibility to pay for additional storage as you need it.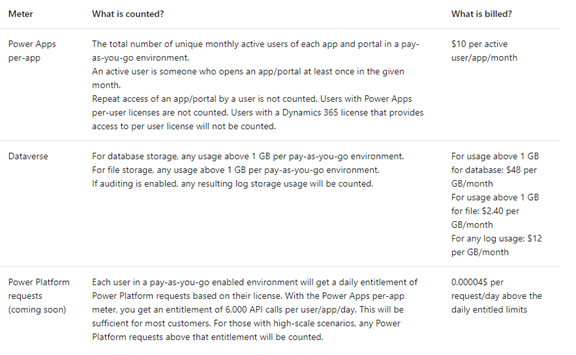 Process Advisor - discover inefficiencies
The Process Advisor within Power Automate is getting an upgrade with the additional feature of Process Mining. This is a part of the Process Advisor which can provide direct insight across a business process to identify inefficiencies. The Process Mining ability will be able to use business logic to provide a holistic view into any forms of bottlenecks which occur across a business and any of their automation processes.
This will allow organisations to be able to have users quickly create a new process using the interface and then upload records for analysis from different systems. They will then be able to customise their insights by selecting arrays of attributes such as: regions, invoice types etc. to be able to filter down into their processes and find any form of bottlenecks which are slowing that process down. This will overall help to improve productivity by identifying which activities are the most time-consuming.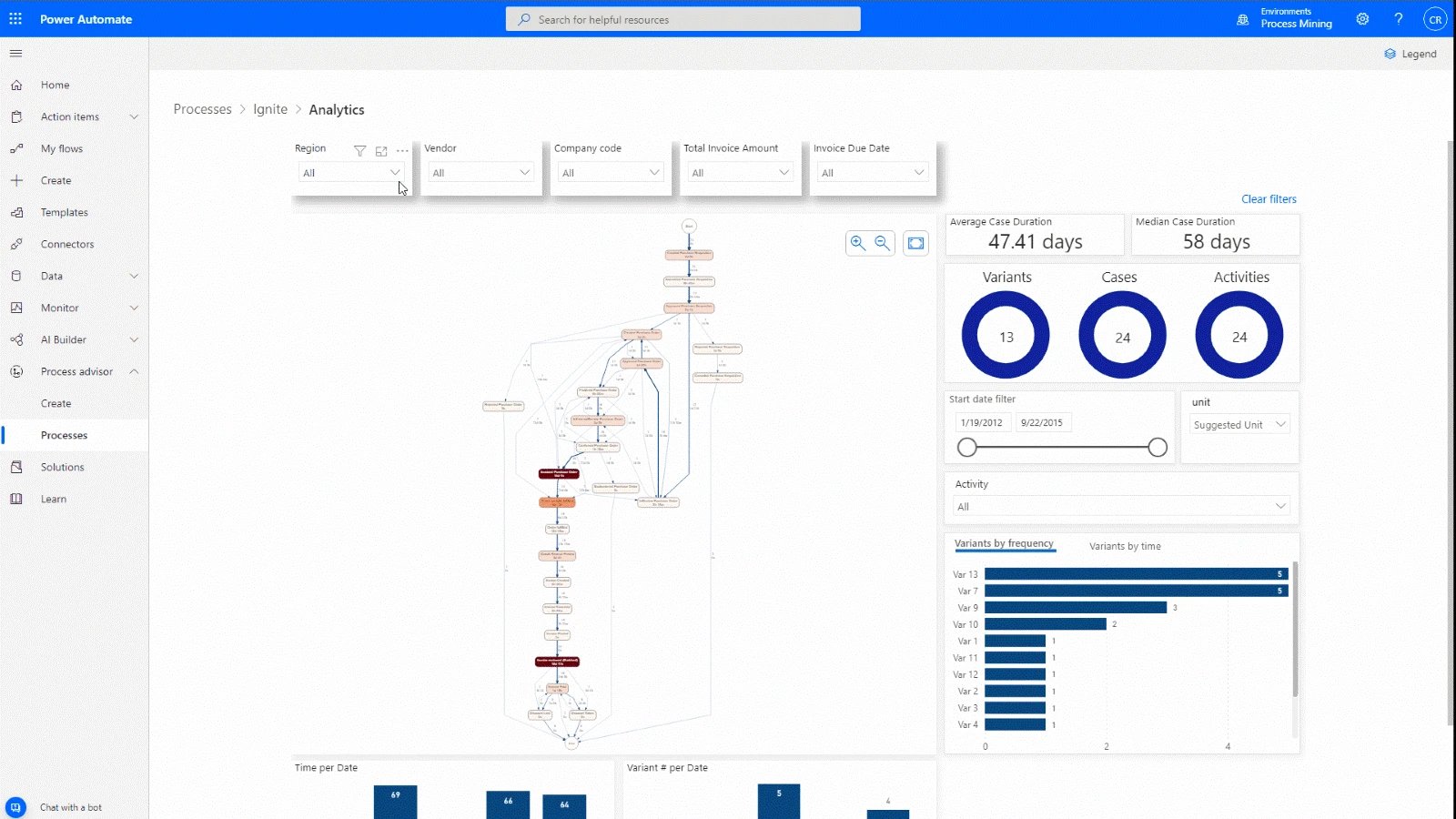 Data insights for Teams - Power BI
Power BI is now providing users with the ability to easily integrate into Teams. With this ability, Power BI can be easily included everywhere collaboration happens in Teams, including chats, meetings, and calendar invites. As part of general availability, there are a host of enhancements and it is now easier to deploy broadly in an organization.
Notification dashboards: Share notifications so it's easier to stay up to date.
Report Pins: The new pin a report as a tab feature helps quickly bring data into Team channels where it's easier to find by teams.
Project Goals: Create and track key project goals with the new scorecard visual that is part of the ongoing Goals public preview.
AI integration - bring your own model
AI Builder allows organisations to be able to automate tasks, increase productivity and gain insights about their organisation. By adding AI into applications, it allows for the creation of smarter development and processes.
The latest improvements make it easier than ever to add AI to your low code solutions.
Bring Your Own Model:
Companies can leverage existing investments in data science. Any AI model, built with any language, framework, or tooling, can now be used in Microsoft Power Platform via AI Builder.
Form processing improvements:
The Document Automation starter kit makes it easier and faster to train form processing models.
More powerful and flexible integration of AI into your Power App:
Using Power Fx, makers can now use any AI model on any control in canvas apps. Allowing users to be able to add AI predictions into applications for smarter development.
Image Classification with Lobe:
Domain experts can train image classification models on their computers with Lobe and export those models into AI Builder to be used in Microsoft Power Platform.
AI Builder starter capacity:
Is now included in select Power Apps and Power Automate license plans