What is the Microsoft Power Platform?
The 'Power Platform' is a term used for a collection of four Microsoft Products which provide ways of being able to automate business processes, manipulate and transform data, save time and increase productivity. The collection is split into these Microsoft Products; Power Apps, Power BI and Power Automate (previously known as Flow) plus the recent introduction of Power Virtual Agents.

Each component of the Microsoft Power Platform is linked to the Dataverse (previously known as Common Data Service). Though each component is dynamic and can work perfectly with other data sources, when all are brought together it can achieve masterful results.
In this Insight, I'll provide you with an overall breakdown of each of the different areas within the Power Platform.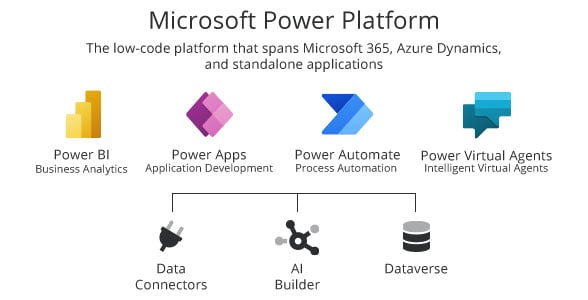 Microsoft Dataverse
The Common Data Service was renamed to the Microsoft Dataverse in November 2020, and is the backbone that powers the Microsoft Power Platform. Its main functionality is as a secure database hosted within Azure Cloud, containing multiple pre-built sources of record types that can be used throughout each of Power Platform applications.
'Dataverse lets you securely store and manage data that's used by business applications. Data within Dataverse is stored within a set of tables. A table is a set of rows (formerly referred to as records) and columns (formerly referred to as fields / attributes). Each column in the table is designed to store a certain type of data, for example, name, age, salary, and so on.' What is Microsoft Dataverse? - Power Apps | Microsoft Docs

This provides a diverse area for collective data that is structured and applicable for each area within the Power Platform, but also provides users with the ability to customise and create additional data types to suit any businesses specific needs.
Power Automate (Formally, Flow)
Power Automate is a service that provides users the ability to create automated processes between apps and different services. What this means is that you can take manual processes and transform them into an automated process that would save businesses and users time, increasing productivity.
As you can see, with the right training and guidance you can make several different processes within a business fully automated with Power Automate. Get started with Power Automate - Power Automate | Microsoft Docs.
Power Apps
Power Apps is a powerful development environment that allows users to build applications for a range of different scenarios or user cases. Providing templates and a range of connectors, it can help users to build applications in an easy-to-understand environment.

'Apps built using Power Apps provide rich business logic and workflow capabilities to transform your manual business processes to digital, automated processes. Further, apps built using Power Apps have a responsive design, and can run seamlessly in browser or on mobile devices (phone or tablet). Power Apps "democratises" the custom business app building experience by enabling users to build feature-rich, custom business apps without writing code.' What is Power Apps? - Power Apps | Microsoft Docs.
For example, a user can create an application which is used to supply an online catalogue for users to order specific items that a company sells or can be used to create an application that can arrange one-to-one interviews between colleagues. Its uses can be limitless and very advanced with the correct guidance and training.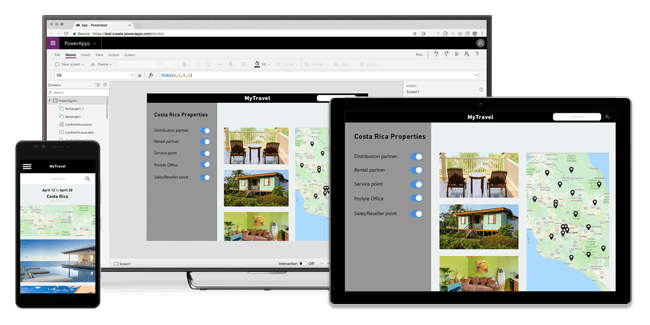 Power BI
Power BI is a business analytic service which is used to create reports on a data set that the user provides. With Power BI, you can create diverse reports and dashboards that manipulate data in a user-friendly way - what this means is that you can provide ways to read data and provide information on business areas such as sales, customer service, and many other business functions.
The reports that are created using Power BI can then be published online to websites, SharePoint or many other areas. This allows business to show productivity or make business decisions based on facts and data, but in user friendly formats such as maps, graphs or charts.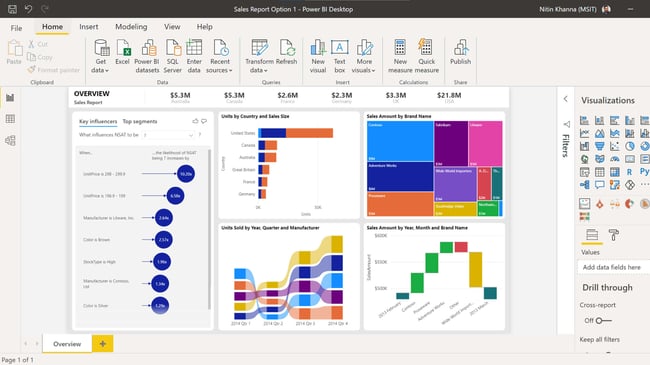 'Power BI is a collection of software services, apps, and connectors that work together to turn your unrelated sources of data into coherent, visually immersive, and interactive insights. Your data may be an Excel spreadsheet, or a collection of cloud-based and on-premises hybrid data warehouses. Power BI lets you easily connect to your data sources, visualize and discover what's important, and share that with anyone or everyone you want.' What is Power BI? - Power BI | Microsoft Docs
Power Virtual Agents
A recent addition to the Power Platform, Power Virtual Agents is a service that allows users to create powerful chatbots that can interact with users to handle specific tasks within a business without the need of complex coding.

This allows business to provide a first point of contact that can be used to drill down to more specific areas within a business without the need of using valuable human resources. The chat bot can interact with users to then answer questions and transfer users to more subject matter professionals within your business.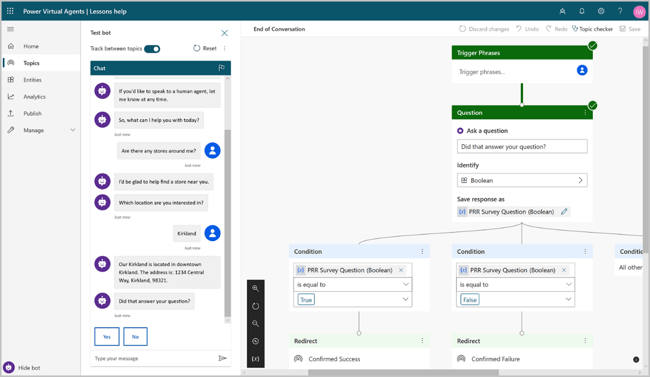 'Microsoft's powerful conversational AI capabilities enable your end users to have rich multi-turn conversations that quickly guide them to the right solution. And, unlike most products on the market, there's no need to retrain AI models. Simply provide a few short examples of the topic you want the bot to handle, build the conversation using our graphical editor and your bot is ready to handle customer requests about it.' Overview of Power Virtual Agents web app - Power Virtual Agents | Microsoft Docs
How the Applications work together
The Power Platform is vastly important within the digital age. The business world is highly reliant on data and it is constantly increasing in size and complexity. Businesses would normally need to hire experienced professional developers to be able to handle business scenarios. But the Power Platform can help low code developers and power users utilise the areas of data transformation, app creation or processes in a user-friendly environment. Users can create systems which fully interact with each other to handle many business requirements.
When all of these systems are combined together, you can create a very powerful system that can handle business requirements and all within the low code Power Platform Environment.