You may be concerned about the data residency of your
information;
in this piece I explore where Microsoft stores your Office 365 data
.
Microsofts UK Datacentres
When registering your Office 365 tenant, Microsoft will place your tenant within the appropriate Geolocation based on the usage address that you are using during the registration. Various services from Microsoft use different physical locations but these will typically be grouped under one Geolocation – which for us is "United Kingdom".
Datacentres for the UK are in Durham, London (read that as Slough) and Cardiff. Specifically, Office 365 services sit as follows, note that data sits across two datacentres for redundancy:
| | | | | |
| --- | --- | --- | --- | --- |
| Service | United Kingdom | Ireland | Netherlands | United States |
| Exchange Online | ✔ | | | |
| Exchange Online Protection | ✔ | | | |
| OneDrive for Business | ✔ | | | |
| SharePoint Online | ✔ | | | |
| Microsoft Teams | ✔ | | | |
| Office Online & Mobile | | | | |
| Skype for Business* | ✔ | | | |
| Microsoft Teams | ✔ | | | |
| MyAnalytics | ✔ | | | |
| Microsoft Stream | ✔ | | | |
| OneNote Services | ✔ | | | |
| Azure Active Directory | ✔ | | | ✔ |
| Microsoft Planner | | ✔ | ✔ | |
| Yammer | | ✔ | ✔ | |
| Microsoft Whiteboard | | ✔ | ✔ | |
| Microsoft Forms | | ✔ | ✔ | |
| Microsoft Sway | | | | ✔ |
*Tenants with 500 users or less will be onboarded with Microsoft Teams and will not have access to Skype for Business
Essentially, all core data for a UK business is stored in the UK datacentres, yet there are some exceptions which we discuss below.
Yammer
Data for Microsoft's US$1bn acquisition back in 2009, Yammer, was located in the USA. For many years post-acquisition it was on AWS (Amazon Web Services) but it now sits in Microsoft's European datacentres.
Microsoft Sway
Built from the ground up by Microsoft and released to the world in 2015, data created in Sway sits only in Microsoft's US datacentres. On a side note, with the iOS app being retired and increased functionality in PowerPoint, we can't see Sway being around for the long term which might make you consider even offering this service to your users?
Azure AD
The backbone of Office 365 identity now sits in Microsoft's US datacentres.
However, as our tenant is a UK Tenant, the core data is stored in the UK South or UK West data centres but some elements as identified here are processed in the US. As a key service, you don't have an option about this but all data at rest is held within the UK.
Microsoft Planner
One our favourite apps, which sits so well in Microsoft Teams, Microsoft Planner data is located in Microsoft's European datacentres.
Is Microsoft going to localise data that is currently hosted abroad?
There is no published news on any planned data moves to the above services. If this causes an issue you may choose to disable Microsoft Sway and, depending on your restrictions, Microsoft Planner services.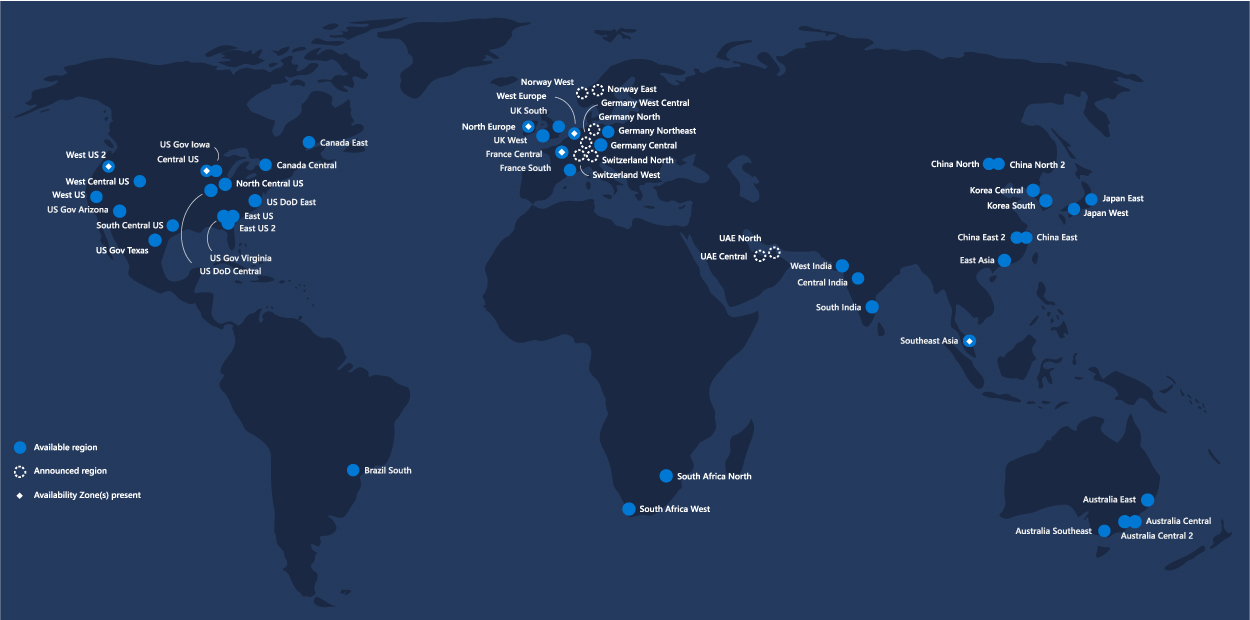 Microsoft Data Centre locations. Latest locations available here
How do I ensure my tenant is in a particular location?
During the Office 365 sign up process, ensure you select "United Kingdom" in the 'Usage Location' field – this will ensure your data sits in UK datacentres.
How do I know where my data sits currently?
Within the Office 365 Admin Centre, click on your organisational name and the information is located towards the bottom of the page under "Data Location".
Can I move my Microsoft tenant's location?
We speak to customers who wish to move their tenants between geographies, either through corporate re-structuring, or that the tenant was originally set up in the wrong location.
Unfortunately, this is not a service offered by Microsoft, and the only way to do this is via a manual migration exercise.
Can I split the locations of my data?
If you're a multi-national, you may wish to hold employee data in the geography in which your employees are located. If you have over 500 users, you can purchase "Multi-Geo" which allows you to define where OneDrive for Business and Exchange Online data sits on a per user basis. You can move data to the following available Satellite Geos Australia, Asia Pacific, Canada, European Union, France, India, Japan, Korea, United Kingdom, United States, United Arab Emirates, and South Africa.
How can I separate out part of my organisations data or merge from another tenant?
Many organisations go through change due to acquisition or to splitting out part(s) of their business, and as part of this activity they may wish to bring together or separate out Office 365 data. Unfortunately, there is no easy way to do this and it is a manual task. If you need help, we perform this type of work on a regular basis – carving out SharePoint, OneDrive for Business and Exchange data from Office 365 is the most common.
Resources: