There has been a lot happening in Teams over the last few months and some of the recent updates in Microsoft Teams Meetings are well worth highlighting. Before you start taking a look at some of these features, we will first show you how to make them appear in your desktop app by following these quick simple steps.
On your profile picture click Settings > General
Select 'Turn on the new meeting experience'
Restart Teams by right clicking on the task bar and choosing Quit
Start Teams as you normally would
This gives you some great new features in your Teams Meetings experience. It is worth being aware that the option to control new features has only become available recently and soon these settings will appear on by default for everyone in your organisation.
Something that is always worth considering with new Microsoft Teams features are often they will only become available in the Microsoft Teams desktop client for Windows or Mac. Although not always the case they can take a little longer to appear in the web browser version or mobile app for Teams.
Pop out meetings
The first real benefit you will notice is when a new meeting starts it will pop out into a separate window. Great if you want to navigate around Teams while also using the video in your meeting and having a separate chat experience with other tools like notes and a whiteboard.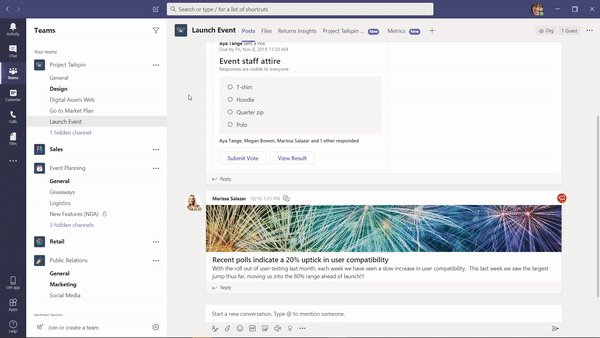 Meeting controls
You will also notice the meeting controls move to the top of the meeting screen. Instead of moving your mouse to make them appear, they are now docked making your user experience a lot easier.
Large gallery
If you join a meeting of 10 or more attendees, then you can now switch that up to 49 video streams at once with the large gallery view. This is a setting you need to enable as it gets defaulted to the standard Gallery option for every meeting and this can be found by expanding the ellipse in your meeting controls.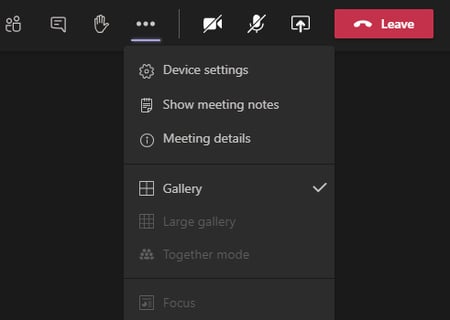 Together mode
A feature you will either love or hate can be seen with 5 or more attendees in a meeting allowing you to switch into Together mode. This will then use the intelligence of Microsoft AI to display colleagues in the context of an image. Maybe a bit of work needs to be done and it would be nice to have a name next to a face, but something worth using with lots of meeting attendees. Learn more here.
Meeting notes
The ability to make notes which are shared with everyone in the meeting is now available and by using this it opens a wiki style experience in your original Teams window. You can now take notes and see everyone in the meeting at the same time.
Focus mode
This must be my most used feature so far in the latest updates, it allows a screen sharing session to be expanded which removes the list of meeting attendees. When someone is sharing their screen, you can use focus mode to expand out and have a clearer view of what you should be focusing on.
New features
There are many new features that are coming after these including the ability to introduce Polls into a meeting. Another feature which is getting a lot of people's interest will be 'Virtual Breakout Rooms' allowing large meetings to be broken down into breakout groups and then all returned in to one large meeting at the end.