What are Microsoft Lists?
The way Microsoft describes it "Lists is a tool to 'track issues, assets, routines, contacts, inventory and more using customizable views and smart rules and alerts to keep everyone in sync.' It features deep integrations into Teams, SharePoint and other Microsoft products".
Lists have been core functionality in SharePoint since the beginning. Lists create the ability to define a flexible structure for information to be stored centrally in a similar way to how many use Excel. The often-perceived complexity and less than friendly way SharePoint has historically served up this functionality has kept it from the "mainstream", relative of course, as SharePoint lists are still to some degree or another used by many!
With Microsoft Lists this barrier has been removed. Lists brings templates that we can either use as-is or use as a starting point for the information we want to store. The user experience has been significantly improved and brought up to the modern standard and of course including this in Teams under the guise of an app only further improves the experience.
Create and use Microsoft Lists in the web and Microsoft Teams
When released to your tenant, starting a list is easy. From the Microsoft 365 app launcher (waffle button in the top left), you'll be able to select Lists and get going.
Pro Tip: If you haven't got this yet, try this. Go to your OneDrive, in the URL you'll see 'onedrive.aspx' at the end of the URL in the address bar. Change this to lists.aspx

From here, you'll be able to get going quickly with one of the ready-made templates for things like issue tracking, asset management, onboarding and more. Hitting 'New List', you'll be presented with the below: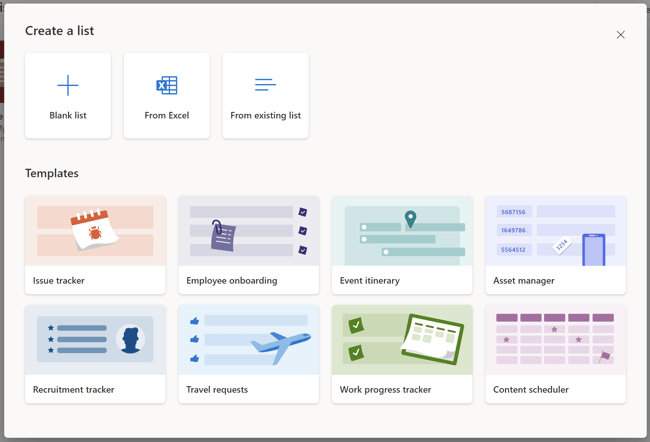 When in Microsoft Teams, you can add a tab in the usual way and select 'Lists'. From here you'll be able to easily add a list or create a new list directly in Teams.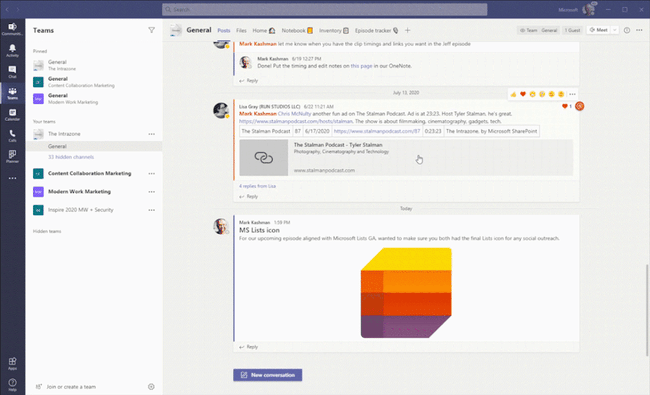 A new world
Many of us are working in a new world of distributed teams of one scattered far and wide, staying in sync has never been so important.
We very much see and will advocate the use of Lists where previously Excel would have been the go-to. When you're working with hundreds or thousands of items and need to coordinate with others on your team, Excel quickly comes up short.
To take that one step further, Lists comes with a new rules feature, this will enable you to create a rule to send a new email when something happens in the List, even getting so specific as to only fire a rule (and so send a notification) when a particular column / field has a specific value e.g. when Status = Done.
When will Microsoft Lists be available?
Microsoft Lists have begun roll out to Targeted Release (TR) customers in Microsoft 365, planned TR completion by end of August 2020 where they'll then begin broader production roll out. You can read more on the release here.
Resources
For more information and to check out some articles and videos covering specific capabilities go checkout the Microsoft Lists site here.