We are starting to see organisations hit storage limits with SharePoint Online based on the amount of storage that Microsoft provisions. This hasn't been helped in recent times with Stream video moving the storage of content into SharePoint and OneDrive. But what are your options when you see SharePoint storage growing knowing it will at some point in the future exceed your available capacity?
When Microsoft provision your Microsoft 365 tenant then we know they allow 1TB plus 10GB per user so for a 1,000 user organisation we would expect to see 10.75 TB of storage. That may sound a lot and as you start to move your data to the cloud it will feel like it will be enough for your expected growth. But factor in that you will now be storing versions of documents and meeting recordings to name but a few reasons for growth, then the available space will start filling up.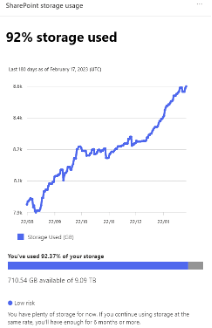 So when you start reaching your limit then what will happen to SharePoint Online? Well the good news is that Microsoft will allow you to exceed your limit and the service won't stop just because you are using more data than you are allocated. But it is worth noting if you don't do anything about it, Microsoft may set your SharePoint Online sites to read only which will impact how users work with the data. But there are a number of options available to deal with the growth.
Extra SharePoint Storage
The first thing that we find organisations do is to purchase more storage from Microsoft to use against SharePoint Online but at the current approximate cost of £0.20 per GB per month this is not a cheap option. There is the ability to increase and decrease what extra storage you need so this can be a short-term solution while planning the long term strategy.
SharePoint Storage with Disposition
Our next option is to consider disposition of data hosted in SharePoint Online. By this we are considering the Retention Labels and Records File Plans available in Microsoft Purview. With a good file plan and policies against your sites you can retain sensitive data required for legal compliance whilst deleting data which may not have been modified for 5 years. By implementing these policies, we can then maintain that we only store current and required data in SharePoint Online whilst removing the old data which is no longer required.

Backup and Recovery
For some organisations implementing Retention labels and Records File Plans may not be a solution the business is comfortable with. In my role I often hear IT Directors tell me we can't delete any data as it might be required in the future for reference. Without considering counter discussions that may then take place the conversation does move on to Backup and Recovery solutions.
With a Microsoft 365 Backup and Recovery solution you can ensure data is backed up and recoverable going back 1 day, 1 month or 10 years depending on your requirements and budget. This may be your solution to implement Backup and Recovery, and then undertake the move to Retention Labels knowing you can restore that deleted file from your backup.
Azure Storage
A more complex but still viable solution is to consider moving files off SharePoint and into cheaper Azure Storage locations. The process of moving the data may need to be built as a custom solution as no feature is currently available to automatically move the data. By moving the data you could reduce the cost down from £0.20GB per month to £0.01GB per month using the Cool tier storage or even cheaper with the Archive tier. This is a little dependent on how often you require access as additional costs are incurred when accessing the files. This is also a more technical approach to build and maintain.
Microsoft Syntex
In October 2022 Microsoft announced that they will be moving into the backup and restore world with Microsoft Syntex. At this stage the information is limited and we are not expecting to see this in general release until 2024 but from what I am hearing Microsoft Syntex is going to become a massive offering from Microsoft with all the features they plan. I would expect the backup and restore component of Syntex within SharePoint Online integrates into administration, but we are yet to see more details. It is worth noting that Syntex currently comes with a cost of £3.80 per user per month and no additional storage costs have been shared but Syntex comes with a whole host of other features like digital signatures, document processing, translation, and summarisation in that cost so it will be a game changer for forward thinking organisations.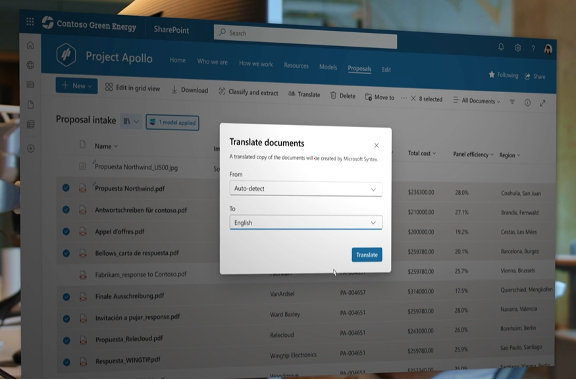 If you are starting to experience storage capacity issues or would like to understand more on any of the above areas then please feel free to get in touch with our team.