Hybrid events and hybrid work in general is no longer a future vision as the world of work has evolved to suit the new style of flexible employees. Hybrid concepts and remote working have become a common practice allowing companies to reduce overheads and increase productivity.
Creating the balance between physical and virtual workspaces has brought in new complications for business leaders to ensure their staff are empowered to work effectively, irrelevant of their working space.
Managing calendars, booking desks and meeting spaces can be a full-time job to manage across a business. Who is in the office today? Are you working from home this week? What meeting spaces need to be booked and for how many people? These are common questions raised on a daily basis within a hybrid workforce. To address this, Microsoft are introducing Microsoft Places.
Microsoft has teamed up with some of the industry leading experts to create a fully integrated M365 solution that includes Outlook, Teams, Viva and Microsoft Graph for detailed data insights.
What is Microsoft Places?
Designed to work seamlessly with the Microsoft 365 suite of tools, Microsoft Places is a dedicated tool for hybrid working. Business leaders will be able to effectively organise both the physical and virtual environments allowing their employees to keep track of their tasks, to-do lists and resources all within M365.
Using the power of Microsoft Graph, Microsoft Places will also suggest tips on travel times if you are planning on commuting to the office, as well as schedule management for you and your teams. This gives you greater insights into the management of resources and employee trends improving the experience, platforms, infrastructure, and planning all in one.
Through dedicated dashboards, employees can toggle on / off whether they will be working remotely or attending the office throughout the week in real-time.

Microsoft Places will show you how many of your colleagues are planning on attending the office or working remotely. This allows you to plan your week effectively, knowing who will be available and what location they will be in.
As well as collaborating with your colleague's schedule to plan out the working week, Microsoft Places will also allow you map out your physical workspaces and define the technology available in that space. This allows you to book the right resource for your meeting or collaboration project.
Using the Microsoft Places dashboard, colleagues will have a plan of the office and available workspaces and be able to book out the required area, next to their colleagues, along with the right resources. Microsoft Places also offers 'way-finding' which will help guide your new joiners to the workspace they've booked.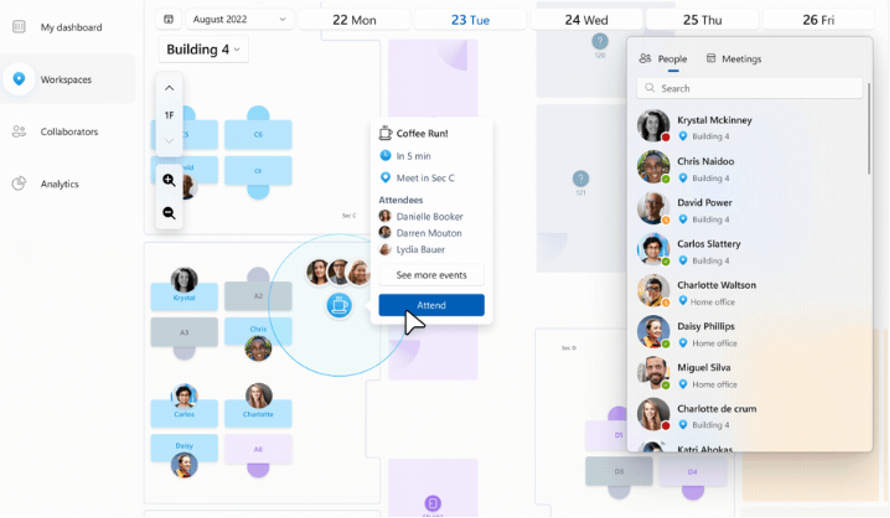 Greater Insights
Microsoft Places will look at trending data, using the power of Microsoft Graph, to show office space utilisation and working trends. This allows business leaders to manage workspaces effectively and shut certain floors of a business, for example, based on energy saving tips and insights. Business leaders can make dynamic adjustments to space usage, day-by-day.
In-depth analytics will empower business leaders to organise resources based not just on the best outcomes for the business, but the needs of individual staff members using Microsoft Places. These valuable inputs are what guide dynamic space adjustments on a particular day, like changing excess huddle rooms to overbooked collaboration rooms.
Business leaders can also aggregate trends about people and places across their entire portfolio, creating more flexible, dynamic, and sustainable places that support new ways of working.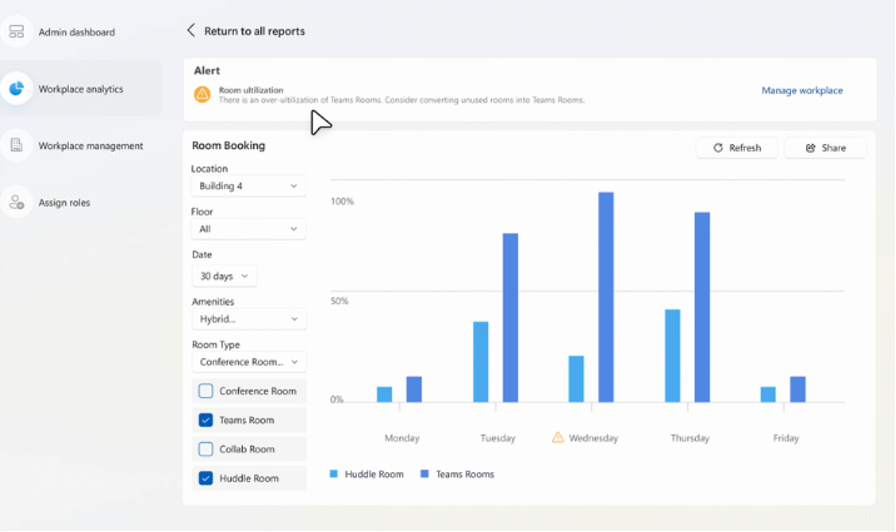 If you are looking for more information on hybrid working and how you can benefit from Microsoft Places, please reach out to the Perspicuity team.
When can I access Microsoft Places?
So far, all we know is that Microsoft Places will become available in 2023. As soon as we have more information on a release date, we'll keep you posted.