We know that many of you are on the Microsoft Teams journey and are becoming aware of updates to the application. This week Microsoft have made some big announcements on many great new features and we think you should know about these. Let us start by highlighting some.
Together mode
A meeting can now be transformed with the new together mode screens and this places everyone in the meeting into a virtual environment. It could be a conference room or coffee shop but is designed to make the experience easier and friendlier. Research has shown that together mode can make meetings less tiring so give them a try!
Meeting recap
A feature I have been hoping to see for a while, when a meeting is finished a recap is available with the transcript, files and notes made during the meeting. So those invited but not able to attend or just need to remind themselves what was said in a previous meeting, this should be a great new feature.
Breakout Rooms
A new meeting feature due out in October is the ability for a meeting organiser to create breakout rooms and bring people back into the main meeting at any point. Working with a large group, you can create smaller groups to go away and complete a task then bring them back to the main meeting upon completion. Great for a virtual workshop where you need smaller groups to work together.
Custom Layouts
Not due until later this year the custom layouts allow a presenter to show their PowerPoint slides or other presentation, while showing the presenter feed transposed into the foreground. It will make your presentations more engaging for those in the meeting.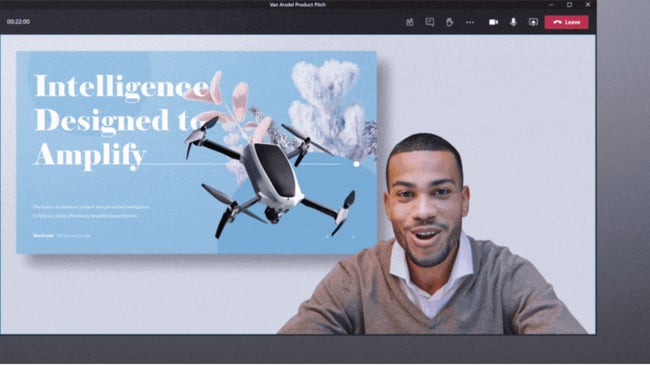 Information pane and pinned posts
Working in the chat of a Teams channel you will have the ability to create an information pane showing a summary of active members, important posts, or any other relevant information for the channel. This is great for members of a Team to stay up to date.
Wellbeing and productivity insights for Teams
Microsoft are fully aware that with this pandemic it has changed how people use the Microsoft technology. With MyAnalytics and Workplace Analytics there is the ability to understand working habits for individuals or in a team for managers. This has been designed responsibly to change habits, improve productivity and focus on wellbeing.
New personal wellbeing experience also includes a virtual commute to add structure to remote workers working day:
Early next year Microsoft have also announced a partnership with Headspace so there will be the ability to offer guided meditation in Microsoft Teams.
SharePoint Home site in Teams
A new Home site app will be released allowing you to take your SharePoint home site for an organisations Intranet (assuming it is part of Microsoft 365) and placing that directly in Teams. The app name and icon will match the brand for your organisation and can be pinned in the app bar.
There is more
We know there is a lot more which can't be captured in one article including Approvals in Teams, Lists as a new Teams app and the embedding of the Power Platform into the Teams service. In this post we have highlighted some of the key features your workforce will experience over the next couple of months and we can help you support this with our Microsoft 365 Managed Success Service.