File Size Increase
Previously the maximum size for a single file was 15GB, this has not been increased for 100GB. This is supported in Teams, SharePoint and OneDrive.
Acronyms in Microsoft Search
If your organisation is full of acronyms, this new feature will certainly help, especially for onboarding new members of the team.
Within the Microsoft Search admin centre, you can add acronyms and an explanation for each. These will then appear in SharePoint search when someone searches for said acronym. More details here.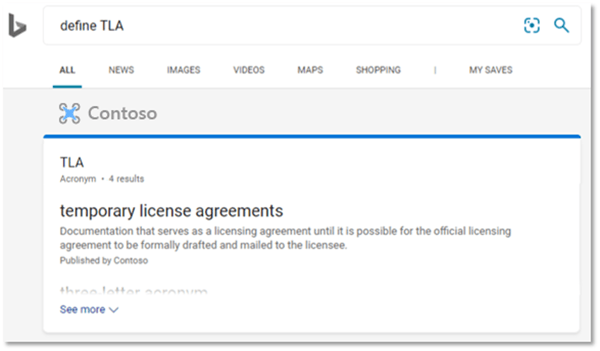 Quick Edit for Lists and Libraries
We are now able to create views in quick edit mode and save them for later use. The default limit has been increased from 30 to 100, this limit is based on current usage across SharePoint online, where apparently most lists have more than 30 but less than 100 items. Who knew!
We're also able to edit and add columns directly from the quick view experience.
On lists, hyperlink and date columns user experience have been updated to make it faster and give a more modern feel.
Web Part Relationships
Out of the box list and library view web parts will now support relationships. Meaning you can create a master and child list for example and once the relationship is created, selecting an item in the master list will filter those items in the child list. All whilst staying on the same page.
This offers great potential for building line-of-business applications from native SharePoint functionality.
Teal is the New Blue
Microsoft have been working on incorporating their Fluent UI framework more in the SharePoint and one step is the change the default template colour from blue to teal. I'm sure someone cares!
Read-only Sharing Links
Create a share link to prevent the download of a file. This allows the target user to have a read-only view of the document which is now extended to pdf, images and audio files!
Presenter Coach
PowerPoint's Presenter Coach was previously only available on the web but is now available in mobile applications.
For those not a familiar with Presenter Coach; take a look at this link, it's pretty cool for anyone that's got a big presentation coming up.