Home sites are live
Some time ago we mentioned how you could setup any communication site (say your Percy home site) as the top landing page for your organisation's intelligent intranet. This will also carry through into the SharePoint mobile application when you hit the home button.
This can be enabled with a simple PowerShell command 'Set-SPOHomeSite', if you're using Percy and would like more information, please drop your CSM a note.
As part of the command the home site will also be setup as an authoritative news source, for Percy customers we also recommend adding your News Hub to this. Authoritative news sources get special visual treatment, making it easier for users to focus on the most important news first.
Saved for later web part
There is now a new way for users to see the content they've saved from modern
Microsoft have now enabled the web part to be used on all pages – page authors can specify the source of 'saved items' to show. E.g. All items for the user, items specific to the current site pages. You'll have probably seen this web part before in your personal site for example.
Yammer Conversations web part gets an update
You'll now see the new Yammer experience embedded into pages. You'll be able to create Yammer posts directly from within SharePoint including the ability to start a conversation in a community, upload image and files into Yammer conversation – all from within your SharePoint page.
Microsoft are putting a lot of focus into Yammer this year, whether that's been sparked by the 'new norm' a lot of us are facing we don't know, we don't care ... it's time Yammer got some love!
Scheduling pages and news posts
This is a big one for the right people, something we've implemented with custom Flows many times before!
Now, Microsoft have introduced the ability for page authors to schedule pages and news posts for publication at a future date and time. This can be enabled by the site owner and is disabled by default.
Pre-publish overview experience for pages and news
When page authors select to Publish, Republish, Post news, Update etc the pre-publish panel appears on the right. It offers up an overview of the site name, a thumbnail and information about what happens when you hit Publish. The panel also has a handy link the page details pane so authors can make and further changes to meta-data is required.
Teamwork in SharePoint
Microsoft Lists (first disclosure)
OK, so we're in the early days here, but even in these strange times the days quickly turn in to weeks and before we know it, Christmas is here again!
Microsoft Lists is an evolution of SharePoint lists, expanding the power of lists and making it even easier (and dare I say enticing) to work with. Work directly within Teams, of course! And a mobile app will be coming soon.
Check out this video to learn more:
Conditionally show or hide columns in a SharePoint list or library form
This feature has been on my list since 2010 and I've lost count of different ways I've gone about achieving such functionality over the years.
You can now achieve this directly from within SharePoint with a simple (or not so simple) conditional formula.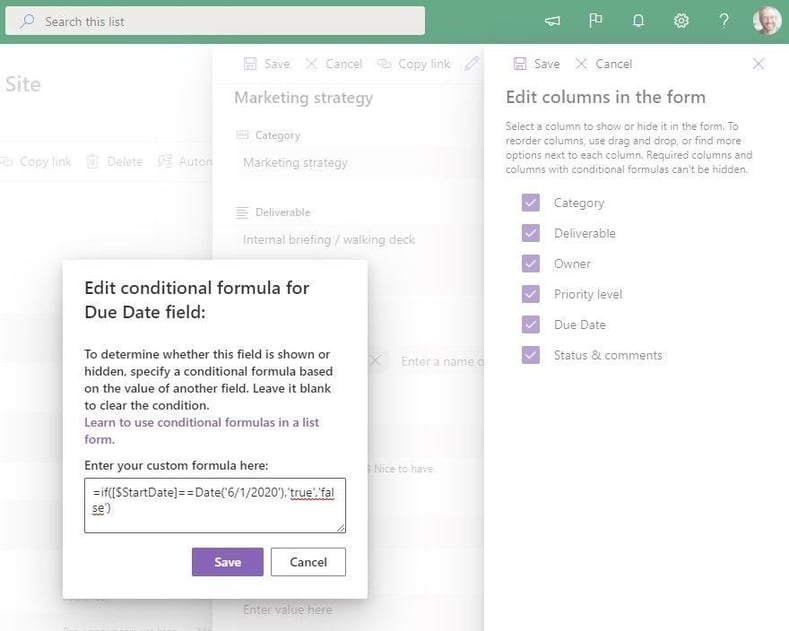 Related
Record your own screen with Stream
Video creators can record any window or screen, add mic or system audio, and include webcam video. There is no need to download any additional software; the tool is web based and works with latest version of Edge or Chrome.
Show, don't tell!
Microsoft 365 Records Management is now in GA
This new solution is the recommended and forward-looking approach to managing records in Microsoft 365 - available within the Microsoft 365 Compliance Centre.
To learn more check out this post, or do drop us a line to find out more about this solution and / or how Records Management could benefit your organisation.