It's been a busy month for SharePoint so I'm picking out some of the latest additions we think should be on your radar, and to provide our insights.
New and Updated WebParts
Button and Call to action – "engage your page viewer by providing focused text on and above a button."
Perspicuity View: These are simply little additions that can just add that little bit of handy functionality to a page. If you want a quick and easy way to add a link off to somewhere else, this is the part for you. In the same family as Percy's quick links part, but this is just for a single link.

World Clock & Weather – "add individual cities or a group of locations to highlight local times and weather."


Perspicuity View: A simple yet elegant part that has been requested many times before, in fact we filled the gap with our own WebPart in Percy. As we aim to enhance SharePoint and Office 365, not challenge it, this does mean our part will be deprecated and removed from future releases. If you have any questions about this, please get in touch.
Divider – "put a line in between sections and web parts, choosing the width and thickness."
Perspicuity View: Another simple one, but very useful and can just give a page the separation and space required to really engage the users.

Highlighted Content – "use custom CAML or KQL queries to display precise sets of content, with the ability to combine filters using AND, OR, and NOT operators."


Perspicuity View: Not one for the faint-hearted, but truly powerful! This adds the ability to build custom SharePoint search queries in SharePoint's own two syntaxes. This really enables you to surface the right content. If this sounds useful, but you'd like some help, we'd be more than happy to do so, so please get in touch or raise it at your next CSM meeting.
CAD Files
Microsoft have worked with Autodesk to use AutoCAD technology to not only fully support the storage of CAD files in SharePoint and OneDrive, but enable previews.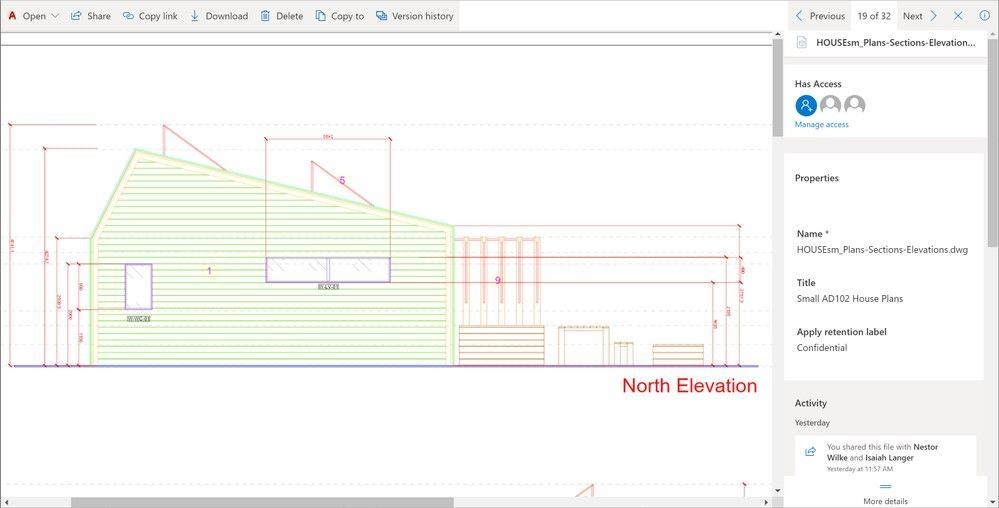 Perspicuity View: A specialist one for sure. If you're in the business of creating or working with CAD files, this is likely to be the most important thing you've read for a while!
File card – activity highlights
This feature shows relevant file activities, like if someone you work with edits, comments, or @mentions you, that activity is displayed with a link to take action directly from the file hover card itself.
Visibility of all file activities per file is key, and now on-hover you'll see a plethora of visual information about your files. Across OneDrive and SharePoint, the updated file card helps keep track of activity for all files (not just Office). You'll also see activity of guests and anonymous file access in the activity list
Perspicuity View: We love this, it really add richness to the experience and real engagement in collaboration.
Power up SharePoint with Yammer
"Many people get along just fine by going straight to the native Yammer interface – it is simple and focused. But sometimes you need more options, so combining the structured page approach of modern SharePoint with the conversational capabilities of Yammer can open up a whole new set of opportunities." – Sam Marshall.
Sam covers in depth the three web parts in SharePoint for Yammer.
Yammer Conversations
Yammer Highlights
Yammer Classic
He does a great job of explaining the purpose of each and most importantly the why!
You're in safe hands
Microsoft was recognized as a leader in both ECM (Enterprise Content Management) and CCP (Content Collaboration Platform) by Forrester. The analyst reports showcase strong support and recommendations for both SharePoint and OneDrive, combined with PowerApps, & Microsoft Flow.
In Forrester's words, "Microsoft leads the pack with its global scale and support for the full content life cycle" and that Microsoft 365 is "the best fit for companies that want a single source of cloud content services" rounding out with the notion that "Microsoft should be short-listed by companies that rely on Office for content authoring and communication that need a solid set of repository, collaboration, and content automation capabilities."
Still here?
Announced at the SharePoint Conference 2019 to a rapturous applause, Microsoft are working on a way to change site collection URLs and are aiming for a release this year.
Perspicuity View: The is an incredibly common request, sometimes it's purely a vanity thing e.g. a site has been created that doesn't follow the same guidelines, sometimes things change, like a team name, other times it's an indexing and surfacing reason. Did you know that SharePoint site URLs are indexed, we can leverage this indexed value to surface only the content you want to see. E.g. Only Percy sites. Whatever the reason and there are many more, it's coming!