In Microsoft's suite of applications, there are several tools that are great for collaboration, increasing staff engagement and delivering internal communications. However, as a lot of this functionality starts to overlap it can be hard to interpret the best use case for each tool and we find our customers may avoid using an application or not using it as intended.
In this article, I go into each application, their purpose & how they were intended to be used in comparison to each other. As mentioned above, some features start to overlap and can be achieved using multiple tools, so I will try to provide additional context including our recommendation.
Firstly, I'd like to start by providing a brief introduction to each application mainly focusing on how these tools are used for collaboration, engagement, and communication to set the scene.
SharePoint (Intranet)
SharePoint is a cloud-based service that ultimately helps an organisation share, manage, and find content. Its primary focus was to be a document management tool used to provide storage in the cloud along with advanced governance tools like approvals, versioning, and collaboration on documents. As SharePoint has moved on over time and improved all these features, it's also added in some great content management tools which is why it's the perfect service to build an intelligent modern intranet on.
Viva Engage
Viva Engage is the social networking service specifically designed for enterprise communication, not intentionally but often referred to as a "Facebook" style engagement tool. It helps employees connect and communicate across the organisation. Like Facebook, where you can post, like, comment and join groups/communities, Viva Engage provides the same ability just inclusive to your organisation so you can't join the Viva Engage network unless you are an employee.
Microsoft Teams
I assume most of you reading this already know what Microsoft Teams is as many of us had little option but to start using it at the start of the global pandemic which is where it surfaced and soon became one of the most valuable tools in the Office 365 suite.
Microsoft Teams is your central hub for work, it's where you start your day and ultimately spend most of your day working and collaborating with your team. Its simple definition is that it's a collaboration and video conferencing call tool that helps us connect with our remote workforce. You will start to see that Microsoft is integrating all their suite of tools into Teams so it becomes that one place where you can access everything.
Purpose (Outer + Inner Loop)
Microsoft has a concept that defines where work gets done and it's something we have adopted here at Perspicuity because it helps define what these tools are intended for. Below is a visual of the diagram and our definition: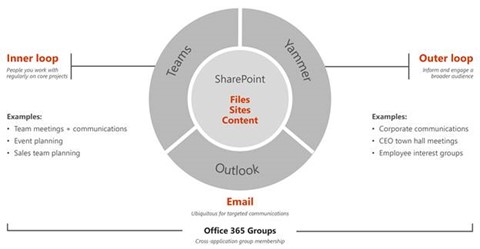 The inner loop consists of your team members or colleagues with whom you work within a close-knit group, this is really to highlight that it's not just your team or your specific department, you can still work within the "inner loop" where it's cross-departmental, however, this is typically an area that requires an invite or set permissions have been applied so only specific people can collaborate.
The outer loop then becomes that space where you can communicate and collaborate with anyone in your organisation, these are the spaces that are typically open to all to join in or from an intranet perspective – all the public policies and content everyone needs access to would be stored.
As you can see from the diagram, we consider Microsoft Teams to be made for your inner loops, and Viva Engage & SharePoint are then well-positioned for outer loops. SharePoint specifically is suitable for both outer and inner loops as you can restrict areas however when referring to SharePoint from an Intranet point of view, the intranet would be the outer loop.
Feature
Tool
Description

Large group discussions

Microsoft Teams has a Team size limit which is currently 25,000 people which may seem ample size for your organisation to have a large discussion, however, it's not necessarily about that.

Can you imagine the number of notifications everyone would be receiving during one of these discussions, not only that but how easy it would be to miss something important and how difficult it can be to retrieve that message in a large thread?

In Viva Engage, as many users as needed can join a community and configure their notifications, extending the possibility to communicate across the entire company. Posting on Viva Engage creates a separate "comments" thread so multiple discussions can run at once.

Discovery



Microsoft Teams are designed to help people achieve a common objective and work on the basis that you are invited into a Team (Inner Loops) as you are working/collaborating on a project, making it a great tool for employees as Teams will then only surface content that they have access to.

Viva Engage, on the other hand, being that more open (Outer loop) space, makes content discoverable and accessible, giving people the choice to be part of a community or not.

Collecting feedback

SharePoint (Intranet) is a great way for the internal communication team to promote & collect feedback, with the use of other technologies like Microsoft Forms, the best way to broadcast this initially would be on the homepage of your intranet or as a news article.

With the Forms Web Part, you can then easily embed the form and the form results onto your SharePoint pages.

I wanted to mention Viva Engage as they have a great feature that allows you to post a poll – which is perfect for getting quick feedback as a percentage of options you've provided.

Asking for help

Firstly, I'll assume that the first place your employees would go, should be the intranet and in the case that they are unable to find what they are looking for and need help. Asking for tips in Viva Engage ensures that it reaches as many people as possible (if you are unclear on who can best support you).

You may find that creating different Viva Engage communities related to topics or technologies in our case makes it very clear where best to ask the question before defaulting to the "All Company" feed.

Introducing new hires

SharePoint (Intranet) is more than capable of introducing new employees and can be done by simply placing the person's profile on the page using the People Web Part or by introducing them with a news article (our favourite). The Intranet reach and commenting capabilities provide more opportunities for many teams to welcome the new joiner.

Showcase internal achievement

The news capability is so engaging when it comes to SharePoint, and you can bring pages to life. This showcase or employee spotlight is great news content and doesn't even have to come from internal communications. In a modern intranet, we like to share the workload across content authors so each department can have the access they need to broadcast their news.

Getting work done

Teams are where you should start your day, it's all the project-focused work you need and collaboration spaces for you and your colleagues. Along with the chat and conferencing capabilities, it's the perfect tool for collaboration. Storing and finding documents across multiple Teams as well as making it quick and easy to get in touch with someone through instant messaging or setting up a group meeting.

Bring people with similar interests together

These should be open public spaces that can be surfaced and openly joined by new members of the organisation, which is what makes it great with Viva Engage communities. It keeps Teams for work-related conversations and getting work done, whilst Viva Engage can become a space for the more social side of things.

Viva Engage can be checked less frequently, or the user can come back to conversations when they have time, whereas Teams is more suitable for that on-demand interaction & notifications. Viva Engage notifications are less of a priority in users' day-to-day work which is why it's another reason to not mix this content up with Microsoft Teams.

Connect employees with leadership

I recommend setting up a dedicated community for connecting the leadership team with your employees. This makes it easier for employees & leaders to respond, ask questions and provide suggestions.

It enables open conversations but should be clear that it's the responsibility of the leadership team to respond to the queries. Viva Engage's search functionality then makes it easy to check/find questions on posts that may have happened in the past.

Informal communications

Teams chat service also known as instant messaging enables you to "get work done" quicker which is what makes it suitable for a fast-paced conversation with rapid responses. It's much harder to re-surface older conversations as they can easily be buried as new conversations flood in.

Since a message sent in Teams will notify recipients in a matter of seconds, the platform is ideal for urgent matters that need a fast response. Most posts made to Viva Engage won't be seen right away, so users shouldn't expect instant engagement with their content.

Collaborating on group projects

When it comes to collaboration, Teams are a clear choice. Project members can communicate within their team or channel depending on the scale of the project. Documents can be edited simultaneously by multiple contributors, exchanging messages in real time, or even jumping on a video call – all from right within the app.

Since projects are typically limited to a defined number of participants, you're unlikely to outgrow the Teams user capacity.

Sensitive information

Sometimes certain company information needs to remain confidential among a group of employees. Discussions that involve sensitive details should only take place in private Teams channels where they can't inadvertently be stumbled across by other users.

Lean about business goals and strategy

As a follow-up to the connection to leadership and the Viva Engage community you can create, it's great to host a site on your Intranet where you can store and provide more updates about the business in general. This could be all-hands meetings (news posts), any key documents related to business strategy and KPIs, or quick links to related resources but also, you can then add the Viva Engage community feed using the Communities Web Part making this place a one-stop shop for all.

Employee onboarding

With the page design capabilities now available in SharePoint and the use of lists & forms. SharePoint can be a great onboarding portal. Taking new employees through a journey and surfacing all the content they need.

With the management of lists, you can keep track of the onboarding schedule and tasks each new hire must take.

Authoritative corporate news and announcements

SharePoint (Intranet) should be restricted so that it's visible when corporate news or announcements have been released. By configuring a site to be your "authoritative news" site, you can set up specific areas that only internal communications can push/schedule news from, pulling it through to the homepage to ensure employees see any important information.

By setting up the authoritative news site, any articles created from there will be highlighted to stand out more in content feeds plus being surfaced higher across several search sources including the SharePoint mobile app.
In summary...
Hopefully, those key tasks make it a bit clearer exactly how those tools can be used. By keeping the inner/outer loop concept in mind, it's easier to understand the purpose of these tools.
Viva Engage is an outer loop space built for two-way and public conversations across the entire organisation, suitable for large group discussions & integrating more social/informal engagement allowing employees to choose to be part of a community.

Microsoft Teams is your inner loop workspace providing you with the best tools to collaborate with your colleagues and achieve a common objective. The chat and notification functionality makes it perfect for high-velocity and fast responses.

Lastly, SharePoint (Intranet) is an outer loop space that acts as that one place employees can go to find all the relevant & published/final version content they need. It's easier to find corporate news and announcements and key policies or documents that everybody needs access to rather than scrolling through a Viva Engage community or finding them in the vast number of Teams.