Back in February 2021 Microsoft announced Microsoft Viva. Nearly 8 months on and we're starting to see more questions from our customers around Microsoft Viva, with the main question being 'What is Microsoft Viva'?
There are lots of blogs and videos out there where you can find this information but sometimes it still isn't clear and we can't find the answers we need. At Perspicuity we want to help you understand this new offering from Microsoft.
Microsoft Viva isn't really a new app, it's more of a bundle of services and features, some of which already existed, and some new ones. Microsoft has brought them together under the Viva brand to simplify and work better for us as an employee experience solution.
Microsoft Viva is built on Microsoft 365 and works in Microsoft Teams and other Microsoft 365 apps. It is built up of 4 modules, which each have their own branding:
Viva Topics.
Viva Connections.
Viva Learning.
Viva Insights.
Each of these 4 modules can be available to add to your Teams app bar, with some needing additional fees.
In the last 18 months we've seen the way we work change and Microsoft Viva gives us a new opportunity to connect, share knowledge and try to find a balance between life and work.
In the following sections we will break down each of the modules and what they offer.
What is Microsoft Viva Connections?
Viva Connections repackages and builds on some of the tools and features we already have by bringing your communications into one personalised dashboard, which includes:
News and announcements
Videos
Conversations
If you are sending or receiving communications through Yammer Communities, Stream videos, and news and announcements in SharePoint, having this one dashboard will be useful.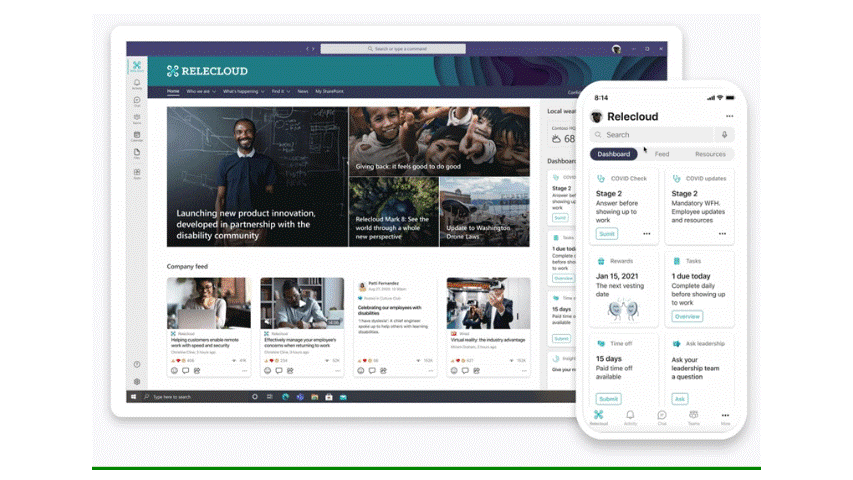 Find out more about Viva Connections here.
What is Microsoft Viva Topics?
Have you ever struggled to find information, resources or people related to a topic or project at work? Have you had to spend too much time searching to find this? This is where Viva Topics will become useful! Viva Topics uses Microsoft's artificial intelligence (AI) to mine data across the organisation and generate topics, which can be curated by appointed people in your organisation. Once published, a topic card will pop out over the highlighted topic word giving us:
A summary of topic
Key documents
A list of subject matter experts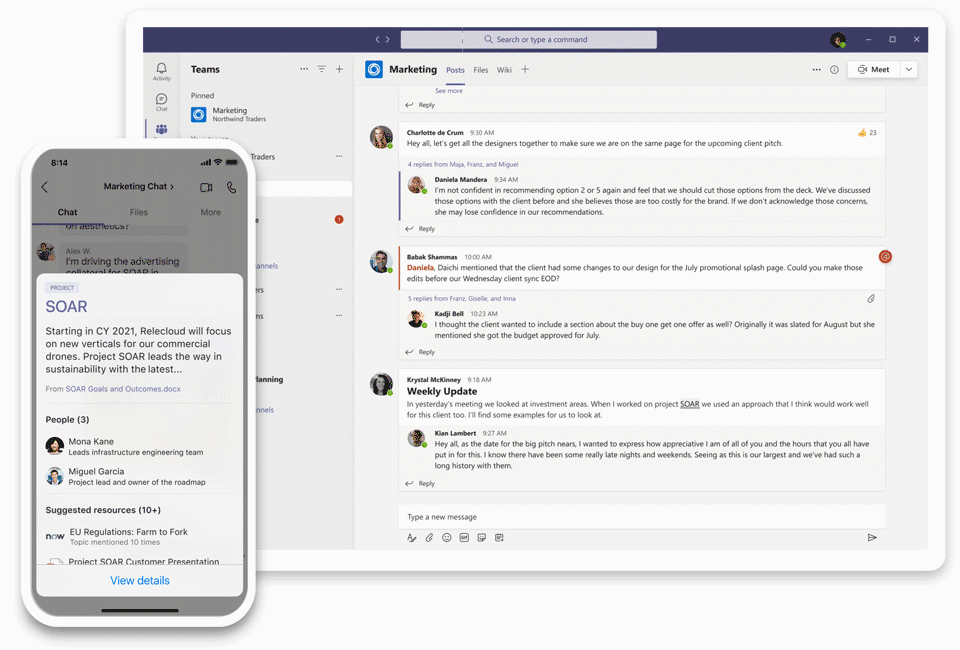 What is Microsoft Viva Learning?
Creating a learning culture can help retain staff and help us develop. Viva Learning builds on this and creates a single dashboard for us to access learning content including internally created resources, Microsoft Learn, and 3rd party content providers like LinkedIn Learning, edX, Skillsoft and more.
There's more to just viewing training content in one place, we can also recommend courses, share and add courses to a Microsoft Teams channel tab.
Viva Learning will also be available in other Microsoft 365 apps like SharePoint and surfaced in other Viva experiences like Viva Connections and Viva Topics.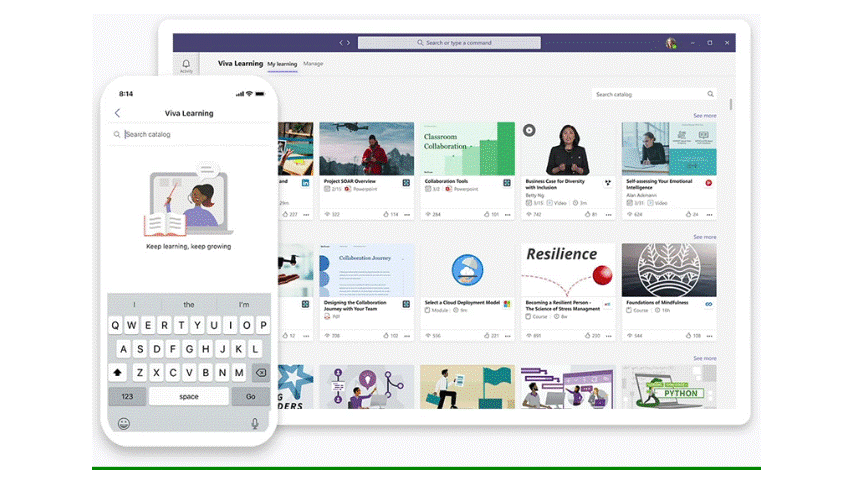 What is Microsoft Viva Insights?
Every day we use applications like Outlook and Microsoft Teams to perform actions like meetings, receiving and replying to emails which can provide valuable insights into the way we are working. Viva Insights brings data driven insights to our fingertips to make the most of our time at work.
Managers and organisations can use this anonymised data to get a picture of how we are working and collaborating. The metrics can guide managers and organisations to identify opportunity and then drive change across an organisation.
It's not just about organisational change either! Have you noticed daily emails from Cortana? These have recently been rebranded and may now pop up in your inbox daily from Microsoft Viva. These emails, and the Insights app in Microsoft Teams, are a part of Viva Insights, which enable us as individuals to look at the way we work; providing us with tools to protect our time, stay connected with our colleagues and even have a virtual commute.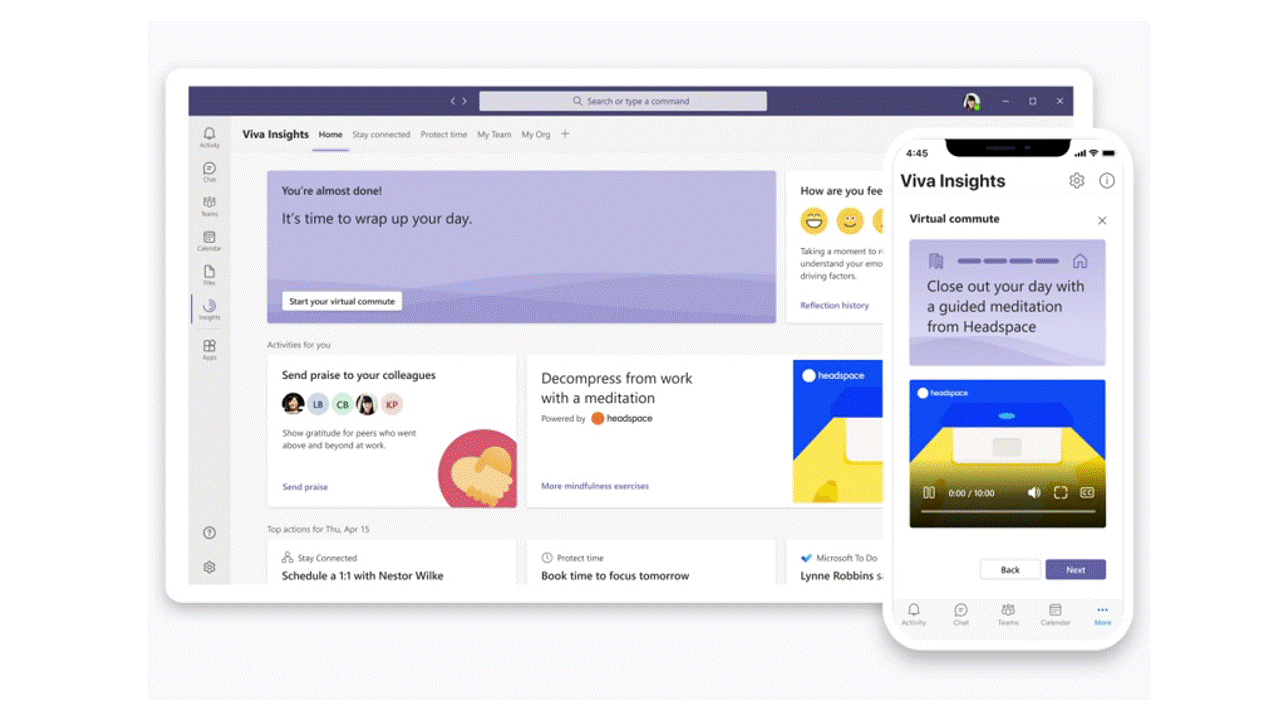 Why does Perspicuity love Microsoft Viva?
If you've made it this far, hopefully you have a better understanding of Microsoft Viva and what potential it may have for you and your organisation. We love Microsoft Viva because it offers us the ability to connect, share knowledge, and gain insight to the way we work. This is another offering that has potential to empower you and your colleagues to make work better.
If you want to find out more about Microsoft Viva or have a discussion with us on realising the benefits it may bring your organisation or you want to discuss anything else, please do not hesitate to contact us.
Watch out for more content from Perspicuity on Microsoft Viva and more. If you can't wait here's the official Microsoft Viva page.