It may sound new to many of you, but Sharepoint Syntex was announced earlier in 2021 as a new add-on available for SharePoint Online. It is the first step into the world of Artificial Intelligence (AI) and SharePoint Online integrated together with the focus very much on machine learning reading documents and their contents.
It has been a few years now since Microsoft introduced Artificial Intelligence (AI) and although very powerful, this was a well-hidden capability for organisations with the services in Microsoft Azure. At the time I piloted complex projects reading in Invoice notes and extracting the key details to then start an invoicing approval process. But that was a difficult project and required custom development to get it in a position ready for wider use.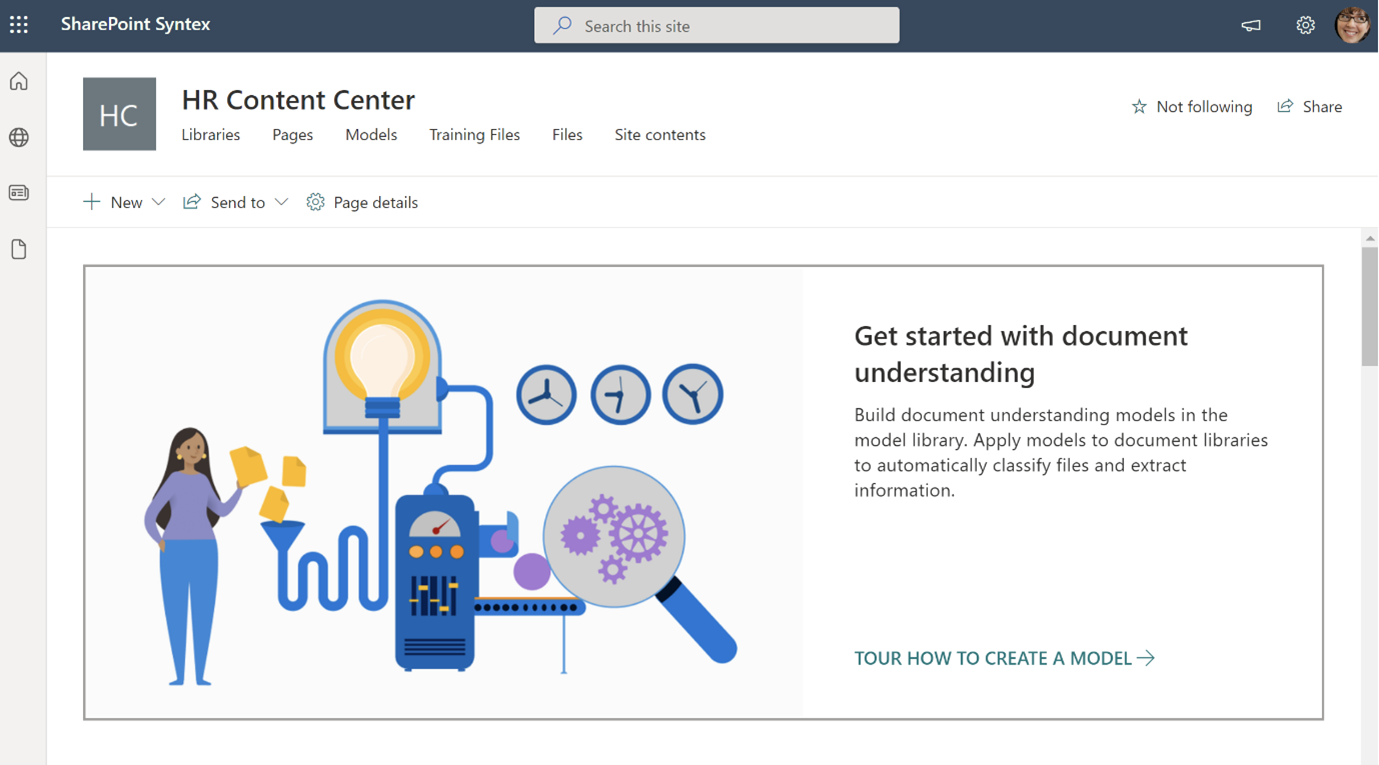 With SharePoint Syntex we are now getting the opportunity to see that technology introduced into mainstream document management. In fact the technology is clever enough to automatically tag images, read document content including handwritten text and extract metadata from semi-structured forms.
Training a Model
The first thing we need to consider is how to train Microsoft to read our documents and extract the right information that we expect. For the technology to know what it is working with we first need to create a training model.
To do this we start by training a model which is a one-off task that we run through and prepares our SharePoint Library. In SharePoint Syntex we now have an easy-to-follow process of training our model where we feed a minimum of 5 standard document examples, all in the same format, to then allow the technology its knowledge in reading your documents. Then there is the human interaction of reviewing, amending and finally accepting an AI Model.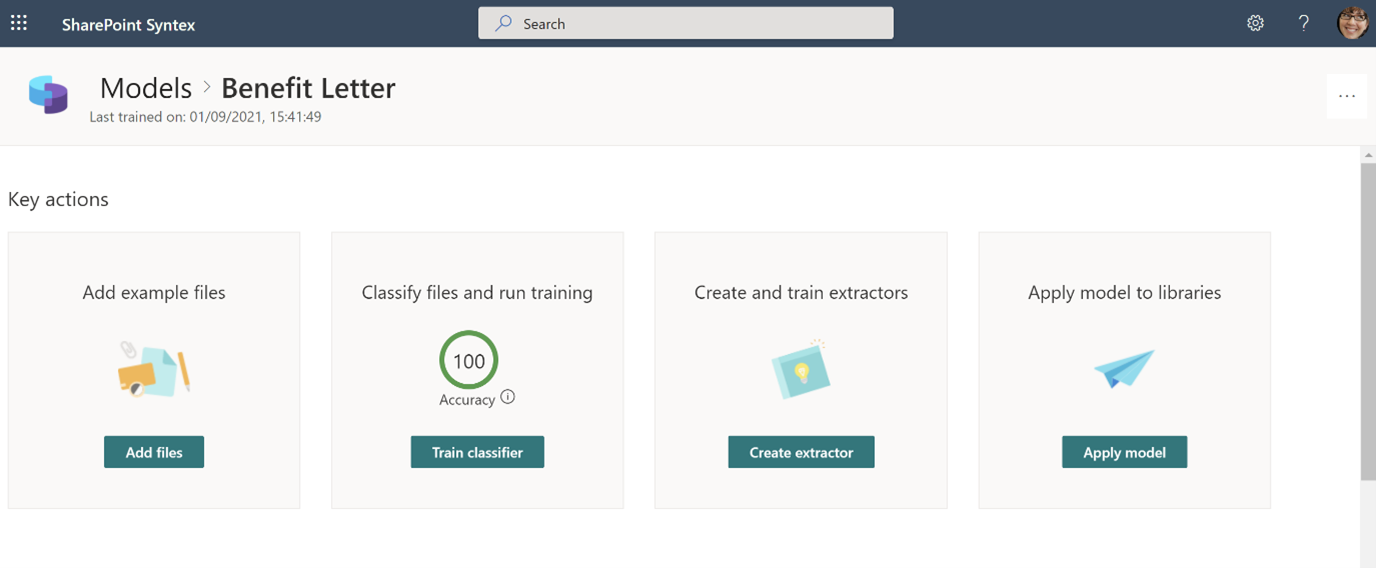 When we are ready this can be tested and published to one or more document libraries in SharePoint Online.
Implementing the Model
Once published we can now start using our document library to upload and manage our documents. When we introduce structure a huge benefit we will start to see is that the metadata columns in our library will be automatically populated with values that SharePoint Syntex has extracted from the document.
This can be to one or many terms in one file upload and experience has shown this to be a fairly quick process for the business user between completing upload and Syntex running it through the model. A nice feature here is that it will supply a Confidence score that the model calculates based on that document.
It's at this point we can expand the process to include automation with Power Automate or another process driven service based on the results of Syntex. For example, uploading a customer proposal might extract the model driven data of customer name and value, this invokes an approval process and ultimately distributes this through a sign off tool.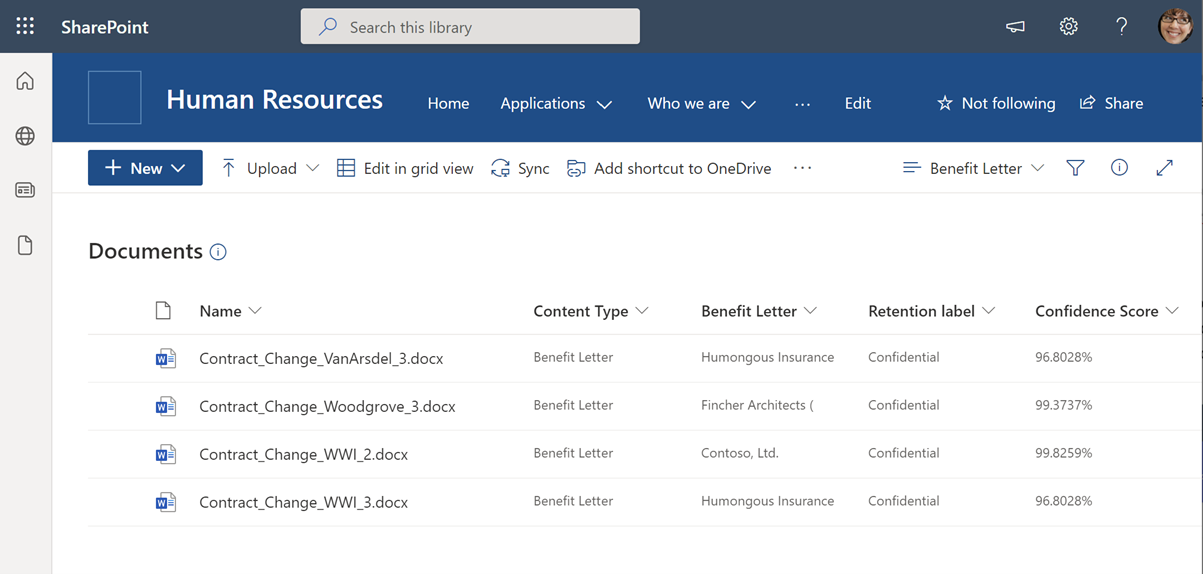 Some of the other features that we are seeing with SharePoint Syntex includes the ability to apply retention labels to content based on it meeting the learning model. For example Planning documents will immediately be classified as 'Plans' and a retention period applied to ensure they are retained for a minimum period of time.
Benefits
There are many benefits of Sharepoint Syntex that will speed up processes and automation in an organisation. That may be HR documents that are completed for a new joiner through to invoicing documents as part of the payments process.
It's worth making you aware that SharePoint Syntex isn't free in the standard Microsoft 365 licence for a business and does require an uplift in monthly costs. The uplift in cost is on a per user basis and needs to be applied to any user accessing information updated by SharePoint Syntex. But the benefits of introducing AI into your document management will highlight that additional technology costs result in improved business process automation.
If you would like to know more about SharePoint Syntex or to book in a short demo then please get in contact with us at Perspicuity.